Running a distribution business is not for the faint of heart, as it requires the right strategies and methods to keep a smooth process. A large part of your business operations happens in the warehouse, and managing it can be tough. Optimizing your warehouse management requires the right mindset and an open mind.
It's essential to think about how you can optimize your warehouse space, equipment, and processes to get the most out of every square foot. If you've been dealing with some hurdles and bottlenecks in your warehouse operations recently, it's best to look for loopholes and mitigate them as early as now.
Fortunately, there are surefire ways to level up your warehouse productivity, and the following tips can help you:
1. Focus On Logistics
Logistics can be described as planning, organizing, managing, and implementing complex operations. It's the process of moving goods from one location to another, and it's an integral part of any warehouse or supply chain. In many cases, this also involves scheduling pick times at each location. And focusing on logistics means finding ways to either shorten the pick-up time or keep employees productive while waiting for deliveries. So, if you focus on logistics, the rest of the steps can be achieved gradually.
The importance of logistics can't be understated. If you're wondering of how you should improve your efficiency in this area, one surefire way is to enhance communication between locations. Depending on the available space of your warehouse, you should make communication easier from each point of the workstation. It will help keep everyone up-to-date on what's happening throughout your entire operation. Your staff won't have to travel from one area to the next to verify if a shipment has to be dispatched or delivery needs to be received.
Needless to say, when you improve your warehouse logistics, you can easily store and distribute your goods. Make sure to involve all of the staff and use suitable systems and procedures to make your logistics optimal. After all, faster delivery to your customers is made possible by an organized warehouse.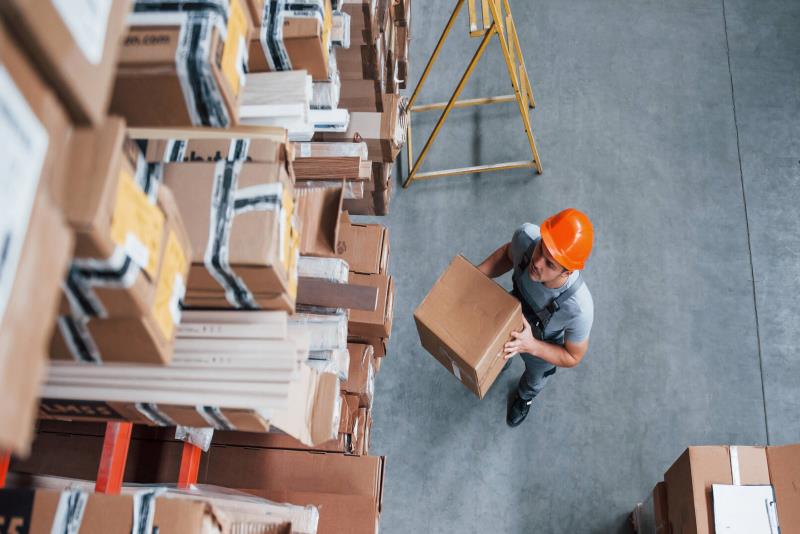 2. Set KPI To Measure Improvements
The first step to any change is defining the problem. You need to know what you want to achieve to design a solution and determine if it will work. It's known as setting Key Performance Indicators (KPIs). If you want to elevate your warehouse operations, make sure to track and measure KPIs regularly.
You'll want to set goals that are ambitious but realistic at the same time. But it can be challenging to improve a business without data to tell you what you need to do. It's where your KPIs come in. They serve as a basis and reference to back up your changes and modifications. It leads you to make more informed business decisions.
You should identify the key performance indicators most relevant to your warehouse business. For instance, these can be inventory turnover, customer cycle order time, inventory accuracy, the efficiency of receiving, and so on. Make adjustments to your warehouse processes based on your KPIs, and you'll definitely achieve your business goals.
3. Use Effective Warehouse Technology
Business systems are necessary to grow a successful business. Regardless of what type of warehouse you manage, you can't help the fact that you need to leverage technology to improve operations. Fortunately, the warehousing industry has developed different systems and software to aid their daily operations. There is warehouse management software that will help you streamline processes, manage your inventory, track shipment and deliveries, automate computing and accounting, and many more features.
All these functions result in organizing your supply chain and making it more transparent for the top management and frontline workers. Another example of warehouse technology that you can use is a barcode. You can incorporate 1D barcodes for defining SKUs and variants. It's commonly used in retail stores but is also helpful in managing warehouses. It helps with marking locations and bins. Mechanically readable and decodable 1D barcodes visually represent information to guide warehouse staff.
4. Maximize Available Space
Some warehouses might be small in size, but you can still use that to your advantage. The key is to maximize available space. Use your existing space efficiently. At first glance, this may seem like common sense—you should be able to tell just by looking at a space whether or not it's being used effectively. But if you don't ensure everything is stored correctly and organized by type, it can be ugly to sort out all your warehouse products and categories later.
Use vertical space for storing items that are not currently in use but could potentially be used again soon enough. These can be placed on the topmost part of your shelving. This way, they won't take up valuable floor space until they're needed again. You can keep more of the same square footage by adding taller storage units and equipment to pick and store materials. By applying the most effective ways to store your products, you can maximize the space that you now have.
5. Train Warehouse Employees
Employee training can also contribute to your warehouse productivity success. You need to train employees on how they can use new technology. It includes everything from software, equipment, and systems that have recently been implemented in order to improve efficiency and effectiveness in their work environment. Train them in how they can adapt their existing processes or procedures. Hence, as not only meets but exceeds customer needs while reducing costs associated with mistakes made during production operations.
The best thing to do here is to create training that seems more fun and worthwhile. Make your staff understand why training is paramount in their daily tasks. Reward employees if needed to make them realize the importance of proper training and how it can help them improve their work performance.
Conclusion
Improving warehouse efficiency is the ultimate goal for most warehouse managers and owners. And it isn't easy to improve warehouse productivity. Fortunately, with the best practices and strategies enclosed in this article, you can be a few steps away from achieving your targets. Watch your efficiency soar by following these simple steps. You can continually improve your warehouse's efficiency, no matter how well it is operating for now. Implementing the right solutions can improve customer satisfaction, lower costs, and improve overall performance.