Everybody who has thought about opening their own business has spent hours, if not days, dreaming about how they are going to make it to the top. Let's face it, if soon to be business owners didn't dream about making it to the top, more of them would end up failing.
In order for any business to succeed it is going to take hard work and dedication on the soon to be business owner's part. However, not every small business owner simply wants to succeed, many want to make it big, like the founder of Nasty Gal's did.
Growing up in the life of Sophia Amoruso
As early as 9 years old, Sophia Amoruso was interested in business, so interested that she began buying books on start-ups. Like many kids, Sophia started off selling lemonade, but what was different is she didn't stop there. Born and raised in Northern California, Sophia decided to make her lemonade stand stick out from all the rest by turning it into a lemonade and abalone stand, after all she had access to plenty of fresh abalone.
Now many of you might be thinking 9 years old is a bit early to start thinking about starting your own business, but for Sophia entrepreneurship ran in her blood. In fact, as far back as she can recall nobody in her family has ever worked for a salary. Her grandfather ran a piano shop, in addition to a motel and her mom was a realtor, and her dad did mortgage loans. Working hard was something that was instilled in her from the beginning. As a kid, she would get up at 5 a.m. just to help her dad deliver the morning newspaper and at 15, she had landed her first job working at Subway. During her teens and early 20s, Sophia found herself working at various retail jobs, but none of these jobs seemed right. So she used her photography skills, which were entirely self-taught, to get her a spot into a well-known art school, but she soon found that as boring as her retail jobs.
With nothing exciting in the future, Sophia just felt like she was wandering through her life, wasting it away. That is until a vintage clothing store friended her on MySpace.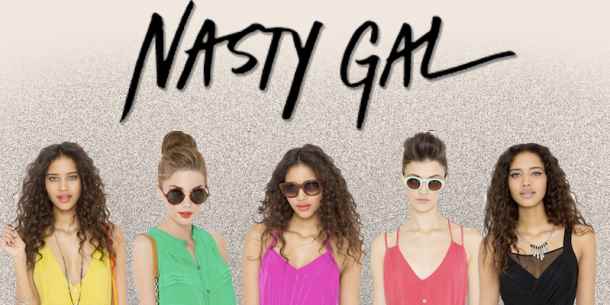 How Nasty Gal began
Once these vintage clothing sellers from eBay started friending her on MySpace, Sophia started thinking about creating her own vintage clothing business. Sophia already knew a lot about vintage clothing, as that was her current wardrobe style. She scrounged through numerous estate sales and was a regular shopper at the Salvation Army, so she knew how to go about gathering what she needed. In looking at what these vintage clothing sellers had to offer, Sophia already knew that she could do it better. Her only problem was she wasn't a big fan of eBay because of how low most opening bids were, but she knew she had to try.
So at 22 years old she decided to try her luck on eBay, Sophia knew that she was going to need to prove that her vintage items were worth more than the opening bid price. If she couldn't prove they were worth more, there was no way she was going to make a profit. Sophia has always known that in order for a business to make a profit they have to sell their products for more than what they bought them for, selling them at cost or even below cost means you are losing money. Her biggest break was that she knew where to get the items she wanted to sell for a really good price.
With that in mind, Sophia went out and bought a book on starting an eBay business. From there she taught herself HTML, graphic design, as well as Photoshop, as we have said before it takes hard work and determination to run a business, which Sophia already knew. With her self-taught photography skills and her newly self-taught computer skills, Sophia created Nasty Gal Vintage, her very own eBay store.

To be successful with her eBay store Sophia was constantly fine-tuning her online selling. To ensure her online marketplace was doing its best Sophia often submitted her best shots to both eBay and MySpace. She used MySpace as a way to gauge people's reactions, but she also used the bidding process on eBay to determine if things could be improved. If the bids were on what she considered the low side or if people from MySpace made negative comments about a particular shot, she would totally revamp the picture. She would go out and find a new model, set up a different background along with different lighting; she would start all over for the item that wasn't selling. She was also using friend-finding software to help grow her MySpace account, despite the fact that it was totally against MySpace's terms.
Obviously, her approach was working because after just a year and a half her eBay store pulled in about $115,000 in sales, a $20,000 net profit for her, and she had around 30,000 friends on MySpace. Nasty Gal Vintage was so successful that she had to move it from her step-aunt's house, where she was using a little cottage located behind the house, to its own shop in Benicia. However, Sophia was yearning to do more. In an attempt to do more, Sophia had started playing around with a website she was thinking about creating, but while she was working on the website, she stepped on a few toes and was kicked off eBay for breaking a few rules.
Business after eBay
Sophia was kicked out of eBay because she was transferring potential customers off the site, as she was directing them to her soon to be website in her feedback emails she sent out. This practice made quite a few other eBay sellers upset, some sellers even accused her of shell bidding, which is where her or her friends would intentionally bid on an item to raise its price, but she vehemently denies taking part in that practice. No matter what happened though her getting kicked off eBay was exactly what she needed to get her website up and running.
In 2008, just as soon as she launched her new website, Sophia left MySpace and began to use Facebook. On her Facebook account, she began running contests, which everybody knows how much attention contests can give you, they are a great marketing tool when used right and it seems Sophia knew just what to do. Sophia simply asked her friends on Facebook to upload pictures of themselves in what she called a "vintage meets runway" look. The winners of the contest received $200 gift cards.
Problems her new website faced
Getting a business up and running is no easy feat, you are going to be faced with problems, but it is how you handle those problems that matter. Despite the success of her eBay store, Nasty Gal was still a new business and the launch of the website meant it was now going to be going head to head with some of the biggest online brands. All of these big online brands had already made names for themselves, so Sophia had to do something to get Nasty Gal to stand out. To grab people's attention Sophia began offer free shipping on orders over $150, but that is all she is willing to offer. Something else she did was use the word "we" in all of her communications from her website, despite the fact that she was the only person running it at the time. Needless to say, what she did worked, as Nasty Gal is a very successful business and Sophia was just named one of the most successful entrepreneurs who are under the age of 30.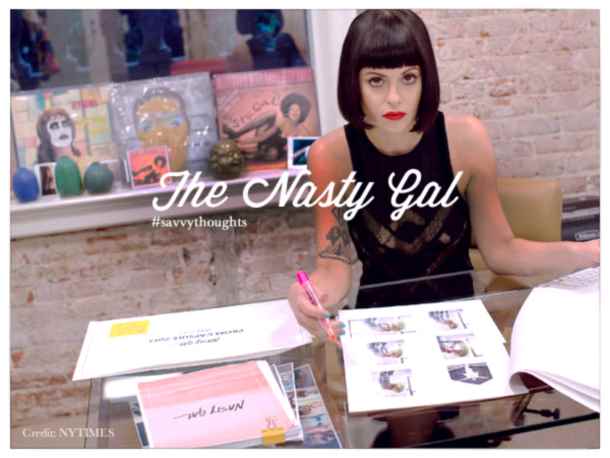 How has Nasty Gal grown?
Nasty Gal may have started out as a one-woman show, but with how successful Sophia was at using social media to promote her business, she soon discovered that she was going to need help. Soon after switching from MySpace for Facebook and launching her website, Sophia hired Christina Ferrucci, who has been with her for five years and is now her buying director.
In the beginning, the two of them were buying things like vintage buyers rather than retail buyers. Basically, they were buying individual pieces based on what they thought was cute. The biggest problem with a vintage clothing store is you cannot sell multiple items of the same piece, as one is all you have, but what you do to advertise that one piece is just as much work as being able to sell multiple sizes of one outfit.
In 2012, Sophia decided to expand Nasty Gal. Her first move was to hire a designer who was to be responsible for designing Nasty Gal's first clothing line. The clothing line was considered a success and now makes up for about 30% of their sales. With how successful the clothing line has become Sophia has hired even more employees and is getting ready to launch her new shoe line.
Whether you are just starting out or have been at it for a while the success of any small business is going to take hard work and dedication on your part. But, if you want to your small business to rise to the top like Sophia Amoruso you are going to have to not only work hard, you are going to have to find that one thing that you can give customers that your competition can't!