Many people dream of turning their side hustle into a full-time business, especially when they're getting sick of their current job or worried they may lose it.
The concept of a semi-absentee franchise model offers a unique opportunity for individuals seeking flexibility in their entrepreneurial journey. This model allows aspiring business owners to balance their side hustle with other professional commitments, while still benefiting from the support, training, and proven systems provided by the franchise. By exploring the potential of a semi-absentee franchise, individuals can lay the foundation for transitioning their side hustle into a full-time, thriving business, ultimately paving the way for both passive income and entrepreneurial success.
However, this transition can be challenging, too, and requires plenty of commitment. Read on for some top tips you can follow to help you turn your side hustle into a successful full-time business.
Conduct Research on Market Demand and Your Target Audience
Early on, it's crucial to assess the viability of your business idea. You might do okay selling your wares on a limited, casual or part-time basis, but this doesn't automatically mean you can create a full-time venture (and the wage to go with it) from your offerings. As such, one of your first steps is to evaluate market demand. Research the market to determine if there will be enough potential customers to warrant the business expansion into a full-time commitment. Consider the following:
Is there a long-term need for your product or service?
What are the current market trends?
What is the size of the market, and is it growing or shrinking?
Another critical step in assessing viability is identifying your target audience. Understanding who your customers are and their wants is essential to creating a successful business. You need to know:
Who is your ideal customer, and what are their desires?
How will your product or service meet these needs or wants?
What is your customer's average budget?
Where do these people live, what are they passionate about, and how do they shop and when?
Before you go all-in on your idea, evaluate its potential so you don't invest time, energy, and finances into a business that won't be able to support you.
Learn about Your Competition
You must also look at the competition in your market to see if there is room for your business to succeed. If there are too many competitors, this can pose a big problem for full-time expansion. You should investigate questions such as:
Are there similar products or services on the market? How are they different from yours?
Who are your competitors? How are they doing? What are their strengths and weaknesses?
What's the pricing strategy of competitors? How about their marketing strategy?
What type of customer support do they provide?
Find a Point of Difference
The research you complete about the market, your target clients, and current competition will help you see where there might be a space for you to fill. You need to find a point of difference so your venture stands out from the crowd. To come up with your unique selling proposition (USP), think about the following factors:
What unique features or benefits does your product or service offer, or could it offer in time?
How is your product or service different from what is currently available?
What problem does your product or service solve that others don't?
What benefits do your wares provide that others don't?
How might you innovatively market your offerings?
Is there a target market you could focus on that isn't being serviced?
Could you sell wares at a different price point than the norm and stand out that way?
Have a Clear Vision
Before starting a full-time business, having a clear vision of what you want to achieve is essential. This includes defining your mission, values, and goals. A clear vision will help you stay focused and make informed decisions aligning with your business's objectives.
It will also aid you in saying no to opportunities that would take you off track and give you a message and goals you can convey to employees, if and when you hire them, or external contractors you bring on board to help with various business facets.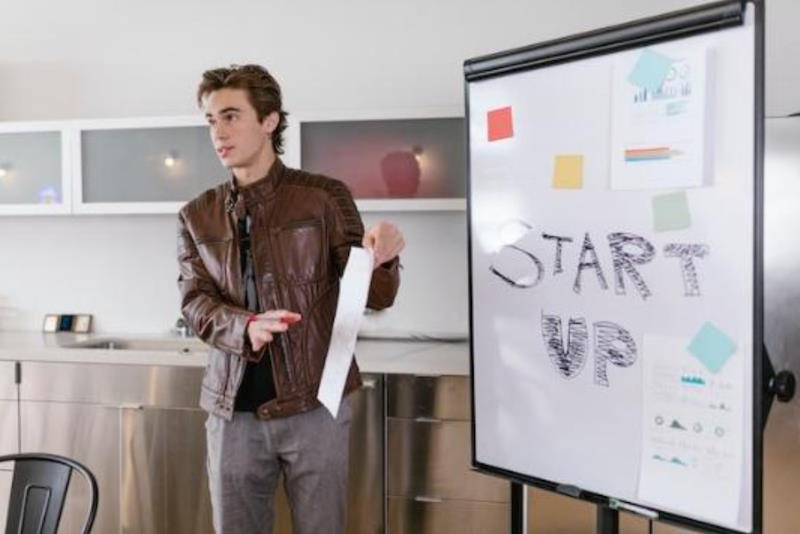 Develop a Business Plan
Developing a thorough plan is another crucial part of turning a side hustle into a full-time business. In particular, it pays to write a comprehensive business plan that acts as a roadmap, outlining your organization's goals, strategies, and financial projections. A well-written business plan can help you identify potential challenges and opportunities, which can assist with timely and informed decision-making. A business plan is a crucial tool for securing funding and attracting investors, too.
Your business plan should outline what your business will do, who it will sell to, and how and when (e.g., online on a website or marketplace or via a storefront, pop-up shop, markets, etc.). Your plan should outline if you need to hire staff members and, if so, how many and at what stages; and note strengths, weaknesses, opportunities, and threats you foresee for the business.
Don't forget to factor in sales and marketing ideas and whether you need to obtain partners or investors. Alternatively, you may plan to apply for small business loans online or with your local bank or other financial institutions to help you turn your side gig into a full-time operation.
As you transition from running a micro venture into a bigger one, don't forget to look for ways to keep scaling and growing the business, and plan for ways to recharge regularly so you don't burn out.
By following all these tips, you can more effectively manage growth and turn your on-the-side pursuit into a successful full-time business.