As a salon manager, you are tasked with making sure all operations run smoothly. From greeting clients to ensuring stylists are on time and feel supported, you really do it all. Being a salon manager can get hectic as you have to balance the roles of so many others while maintaining balance within the salon.
If you will be taking on the role of the salon manager and you want to know what to expect, you've come to the right place.
Here, we will be sharing some of the most helpful tips for a first-time salon manager. You will learn what to expect and how to adapt to high-stress environments while keeping your salon's people happy. While these tips are for new salon managers, experienced managers may also use these tips as a refresher and apply them to improve the way they manage their salon.
Most Helpful Tips for a First-Time Salon Manager
To prepare for your new role, these are some factors and techniques you want to take into consideration so you can become the most versatile and well-prepared salon manager.
Conduct Research – Whether you have worked in a salon before or you're relatively new to the business, it's a great idea to conduct research on what a salon manager position entails. While research may not tell you everything you need to know about the particular salon you will be working at, it can provide you with a lot of insight and may equip you with ideas on how to creatively solve problems.
Connect and Network with Other Salon Managers – Do you have friends or industry connections who are salon managers? If so, you may want to reach out to them to get an idea of what their role looks like and how that could relate to yours. Ask these salon managers about the advice they have for you as a new salon manager, as well as the important lessons they learned on the job. By learning about some of the obstacles these managers faced, like learning how to build clientele or managing different personalities, you will be better prepared to step into your role.
Take Notes – During your first week as a salon manager, make sure to always take notes or request your job description and duties in writing. Having your duties outlined can help you shine in your new role while also ensuring that you are creating a proper routine.
Communication Is Key – As you step into your role and start to manage the salon, you're going to learn that communication is critical in making sure business runs smoothly and people feel supported. One way you can keep the dialogue open is by touching base with everyone a few times throughout the day — from the receptionists to the stylists and clients. Make sure you establish that you're available and open to people so that they feel confident and comfortable coming to you. You can also set up weekly meetings to make sure everyone is on the same page.
Create Procedures that Work for Your Salon – As you settle into your role a few weeks or months in, you should be able to start identifying ways in which the salon can be optimized. If there are certain pain points, create solutions around them and inform the people of how things will be handled going forward. You're on your way to a more efficient salon!
Learn How to Manage Different Personalities – Your management style is entirely unique to you, but as you gain more experience, you will see that you have to manage different personalities quite often. Not everyone will always be fun or easy to work with. You may have to have tough conversations with certain individuals. With experience will come knowledge so don't be discouraged if you are overwhelmed with managing different personalities at first. You will eventually learn how to balance things effortlessly.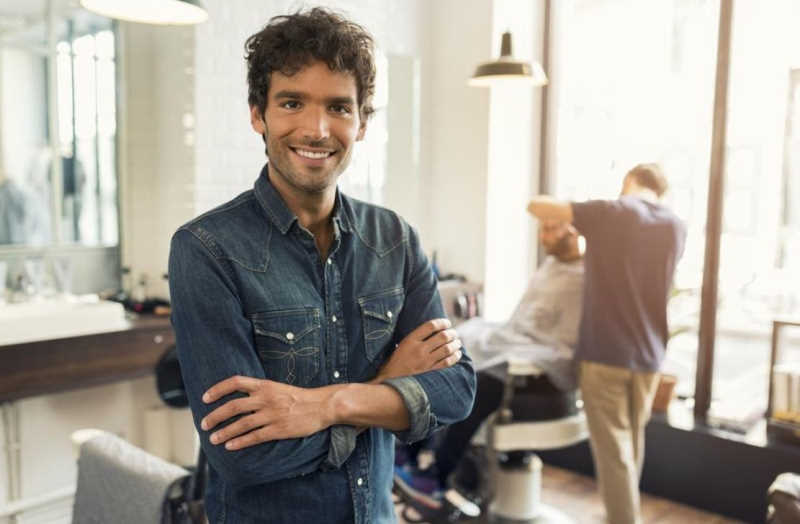 Solicit Feedback – As a new salon manager, you will make mistakes and that's okay. You have an entirely new process, new people and a new business to learn, which means you won't be perfect at first. Make sure you are open to constructive criticism and feedback from your peers and clients. If you find that you haven't received much feedback, you can solicit advice and feedback from your peers. Collecting this feedback will help you identify ways in which you can be a better salon manager.
Always Come to the Table with New Ideas – As a salon manager, you get to see all aspects of the business while also getting to interact with clients. If you have ideas on how the salon can better itself or appeal to new clients, make sure you talk about them. For example, you may want to encourage the salon owner to try salon promotions that actually work to get new clients through the door. You can also review budgets to identify where there are growth opportunities or cost savings that your salon can take advantage of. Your expertise and wisdom — as someone who is closely involved in the salon — are valued.
Prioritize Organization and Cleanliness – A clean and organized salon is an optimized one. As a salon manager, you can set up cleaning and organizing duties and assign them to team members to keep the salon looking clean and professional. With this in mind, it is important to keep a large supply of cleaners and beauty salon sanitizers on hand at all times. The more organized your salon is, the more productive stylists will be. Cleaning salon chairs and making sure salon styling stations look neat also keep clients feeling satisfied and comfortable.
Get Comfortable Sharing Tough News and Providing Feedback – As a salon manager, you may have to let stylists or team members go or provide tough feedback. This is not an easy task for anyone to take on, but it is part of a salon manager's responsibility.
Being a salon manager is not an easy feat, but we have all the confidence in you! Remember that there is a lot to learn on the job and it will take time for you to settle into your new role confidently.