A Cardigan History
History is an incredibly fascinating subject to delve into and a great way to learn about anything that happened way before you existed. Such is the case with cardigans. You'll never guess that the cute cardigan you're wearing was previously a British Army garment, a knitted sleeveless waistcoat, to be exact. James Brudenell, the 7th Earl of Cardigan and a British Army major general who led the Charge of the Light Brigade in the Crimean war, supposedly invented the cardigan after the tails of his coat were accidentally burnt in a fireplace.
And so the cardigan was named after him. Over time, it went through several changes, from a knitted sleeveless vest to a hooded cardigan. In the 1940s, the cardigan also played a big part in the Women's Movement when female college students from Smith, Vassar, and Wellesley Colleges started wearing cardigans to hide their womanly figures to fight for feminism and rebel against the norm.
But who started the Cardigan Trend and how? Read on, and you'll soon find out.
The Legacy Of Coco Chanel
In the 1920s, Gabrielle Bonheur Chanel, commonly known as Coco Chanel, was a French fashion designer known for her timeless designs, little black dresses, and perfume Chanel No.5. She was also given credit as the one who popularized women's cardigans. She disliked how those tight-necked men's sweaters ruined her hair every time she pulled them over her head, so she came up with the design and idea of button-down cardigans.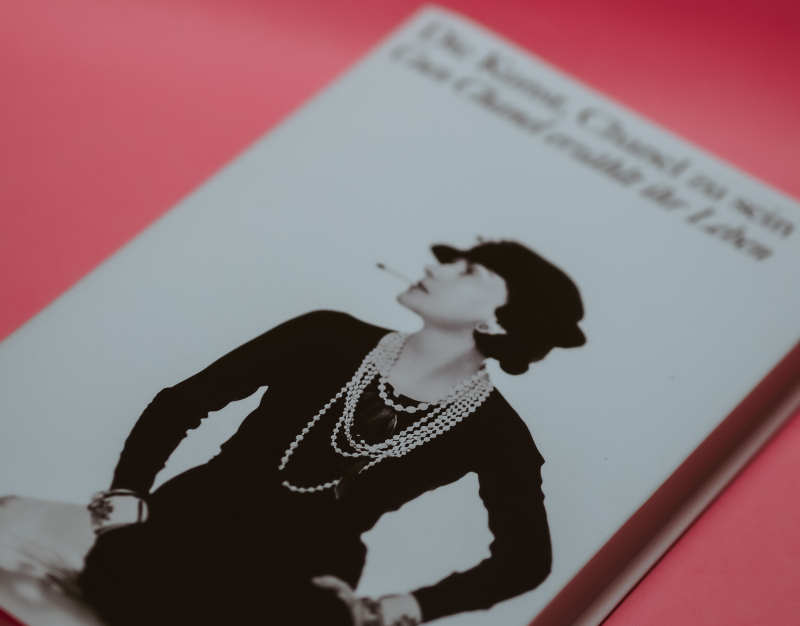 This incident was the beginning of women's fashion evolution. Coco Chanel emphasized making clothes that were comfortable for women. She wanted to inspire women to be themselves and to have them live freely and comfortably.
She motivated and uplifted women through her fashion and accessories. Coco Chanel played a significant part in inspiring women to embrace themselves and fight for their equality.
CARDIGANS OF THE RICH AND THE FAMOUS
MARILYN MONROE
Norma Jeane Mortenson, popularly known as Marilyn Monroe, was an American actress, singer, and model, one of the significant icons of pop culture and famous for her blonde bombshell characters and sex appeal. People probably best remember her for her iconic scene in a Manhattan subway on Lexington Ave. She stood on a subway grate with air blowing up her white dress's skirt and when she greeted President John F. Kennedy with a "Happy Birthday, Mr. President" song at his birthday celebration at Madison Square Garden.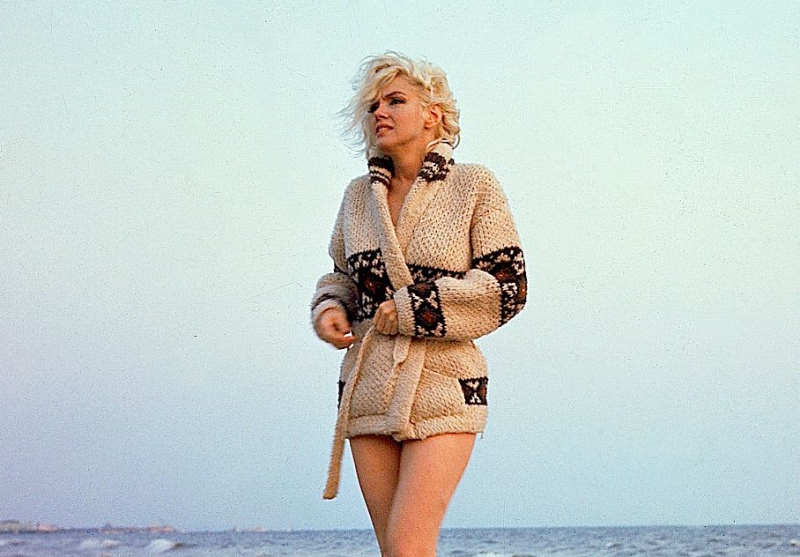 But one of the last photos was on Santa Monica Beach in 1962, photographed by George Barris. She wore a cream-colored, hand-knitted belted wool cardigan with brown geometric patterns across the center, cuffs, sleeves, and neck. Because of this cardigan's popularity, there were replicas sold, and some had it custom-made for them.
But Ripley's Believe It Or Not Museum purchased the authentic cardigan from Christie's Auction in 1999.
PERRY COMO
The multi-talented five-time Emmy awardee musician and actor Pierino Ronald "Perry" Como wore cardigans that became a staple of his weekly musical variety show "The Perry Como Show," which ran from 1955-59. The cardigan sweater came to be his trademark because it complemented his easy-going and good-natured singing style.
The classic V-Neck style he was wearing in his show became known as the "Perry Como Sweaters." This style could be worn with or without a tie and comes in a variety of subtle colors.
KURT COBAIN
Nirvana frontman, guitarist, and songwriter Kurt Cobain was known to wear vintage or grandpa-style cardigans. The infamous stained and cigarette-burnt olive green, fuzzy mohair cardigan he wore during his MTV Nirvana Unplugged Concert was sold in November 2015 at an auction for a whopping $137,500 and sold at $334,000 late October in the 2019 auction.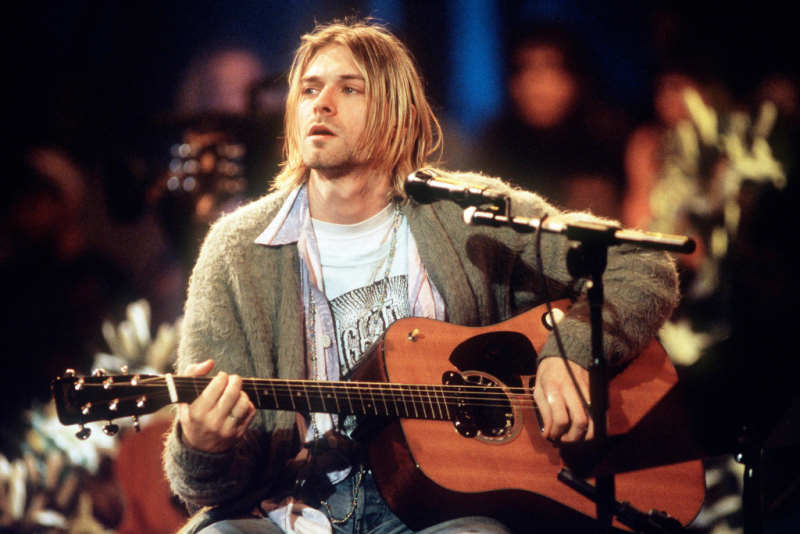 It was the most expensive cardigan ever auctioned.
FRED ROGERS OF MISTER ROGERS' NEIGHBORHOOD
This list won't be complete without Fred Rogers, the host, and genius behind one of the best and long-running children's TV Programs titled Mister Rogers' Neighborhood. At the opening of each episode, after the camera goes to the inside of Rogers' TV house, Fred Rogers is seen arriving home in his jacket while singing, "Won't You Be My Neighbor?" He then goes to his closet, takes off his coat, and grabs a zipper cardigan sweater his Mom knitted him to wear.
It's hard to imagine Mr. Rogers without wearing his trademark cardigan. His signature red cardigan's popularity increased the sales volume and purchases of cardigans by 104%. He later donated the said sweater to the Smithsonian for preservation.
TAYLOR SWIFT
With the release of her album Folklore last year, Taylor Swift's lead single "Cardigan" played a big part in the resurgence of the Cardigan Trend when she gifted fellow celebrities and friends with replicas of the cardigan she wore on her music video. Among those people were Natalia Bryant, Jennifer Hudson, and Adam Lambert.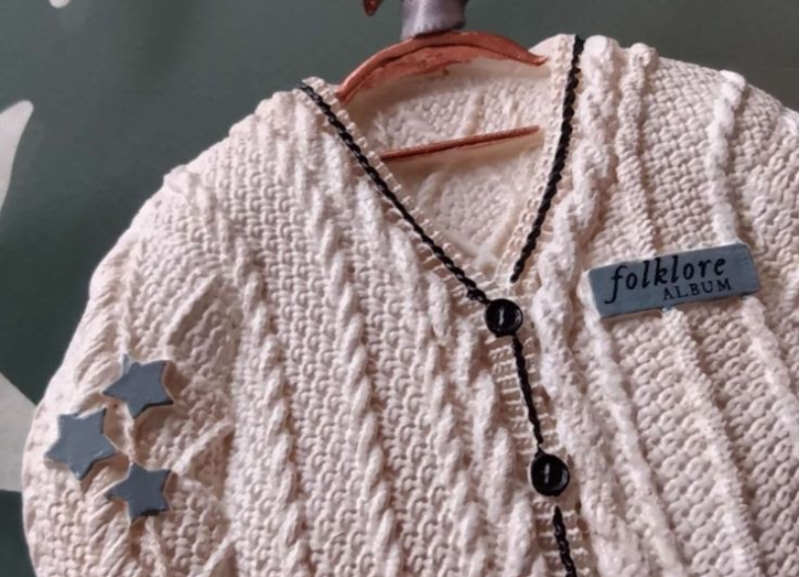 The knitted cardigan is cream-colored with black buttons, dark gray trim, light gray star embroidery on both sleeves, and a light gray "Folklore Album" patch on the left chest. The said cardigan is available in the Official Taylor Swift Store, and the merch is as successful as the song.
It sure was a great marketing strategy for Tay Tay and her team.
CARDIGAN: Symbolism
The cardigan truly has a rich history. From the British Army to the Women's Movement, from Coco Chanel to Taylor Swift, the cardigan is more popular than ever. With its versatility, different styles, colors, and designs to choose from, it gained favor and became a favorite of people, regardless of age and gender.
Cardigans are the most delicate and most sensitive of all knits. It embodies your feelings and personality. The cardigan can capture your emotions, be it for morality, decency, modesty, and so on.
A cardigan can symbolize femininity or masculinity, strength or weakness, joy or sorrow, success or defeat, and loss or victory. Such is a cardigan's depth.
If you're looking for inspiration and require high-quality and premium bulk cardigan sweaters, then this is a perfect day for you. FASHIONLINE takes pride in its revolutionary date-based supply chain, high standard quality control, outstanding quality, and high efficiency for competitive prices. A manufacturer and supplier for 15 years in this industry, it can guarantee you trustworthy and excellent service. Here at FASHIONLINE, your business and success are their top priority.