A trademark is a defining element for your business. When you're running a company, the trademark you'll choose will be one of your valuable assets. The legalities that come along once you have a registered trademark are crucial to ensure your brand maintains a competitive edge on the market.
In business, a trademark plays an important role in making your brand stand out from the rest. But, if you fail to take the necessary measures, instances involving infringement or knock-offs can occur. One of the ways to protect your trademark is to utilize trademark monitoring services from a reliable provider.
Overlooking the need to protect your trademark can bring dire consequences you must avoid at all costs. If you want to protect your business trademark, here are several strategies to keep in mind:
1. Choose A Distinct Trademark For Your Brand  
A trademark is an initial or introductory mode of interaction potential clients will have with your brand. Choosing the right one will ensure you'll be safe from possible infringement. Generally, selecting the right trademark right from the start is crucial.
There are different categories for trademarks, divided according to their strength. The generic category essentially describes a general product or service. Sadly, generic words or phrases are ineffective and can't obtain approval from the United States Patent and Trademark Office (USPTO).
The next is the descriptive category that describes a product or service. The drawback of this category is minimal protection due to its generalized nature. As for the suggestive category, they provide a hint of the product or service your brand offers. The disadvantage of this option is that it's likely to end up with trademark disputes, especially if others utilize similar descriptions.
The last two categories, arbitrary and fanciful trademarks, offer the highest protection against infringement. The arbitrary category is a widely used option but lacks connection with the goods or services a brand provides. In most cases, it'd require brand awareness measures to educate consumers on what your company has to offer. On the one hand, the fanciful option offers the highest level of protection since it utilizes invented terms without any association with the product or service.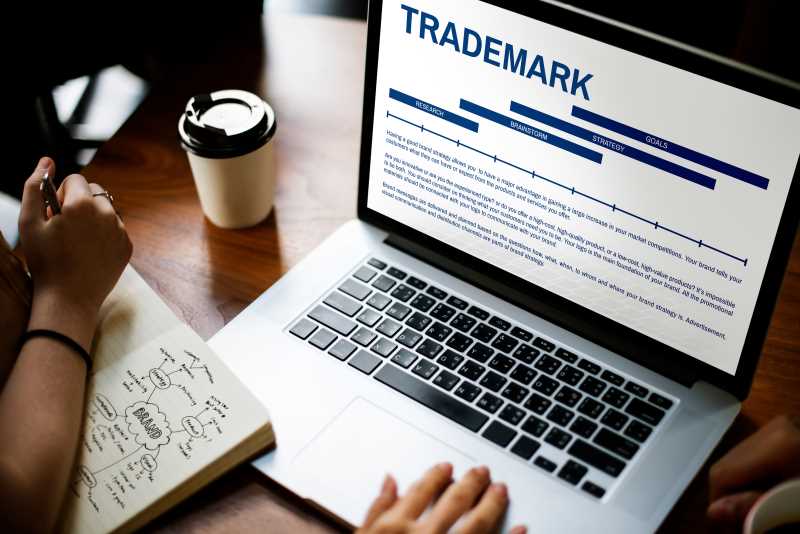 Both arbitrary and fanciful trademarks may provide the highest protection against infringement. However, they'll require more marketing to establish a presence with the target audience. Depending on your business's specific needs, brainstorm which trademark category works best for you.
2. Conduct A Comprehensive Trademark Search  
After choosing the right trademark for your business, make it a priority to conduct a comprehensive trademark search. It's one of the straightforward ways to know if another company already uses your chosen trademark. In such scenarios, it's where infringement enters the picture. In trademark infringement, it involves the unauthorized use of another company's or brand's trademark.
You shouldn't overlook the importance of this task to avoid disappointment early on, especially if you find out that your trademark may infringe on another business. Doing so will avoid the expense of investing in signage or labels.
If you want to protect your trademark, employing the services of a trademark attorney is worth considering. Although most business owners tend to handle this task themselves, you better think twice when it comes to trademark search. There are instances in which infringement happens when a trademark results in confusion with another from an already existing brand. Conducting a search using a major search engine will only provide you with exact matches, not cases involving potential similarities that confuse consumers.
Working with a trademark lawyer may be the best way to ensure a successful trademark search. Generally, trademark lawyers utilize sophisticated search tools. After a search, the result can give you peace of mind, knowing that your chosen trademark isn't infringing on another business.
3. File For A Trademark Application  
After the trademark search provides an appealing outcome, one without conflicts or similarities with other brands, registering your chosen trademark with the United States Patent and Trademark Office (USPTO) is the next crucial measure to protect it.
The application process requires listing all the products and services under your brand. Once complete, the application will undergo review, and you'll receive a letter if there are any questions or concerns you need to address.
4. Utilize Your Trademark To The Fullest  
After registering your trademark, another way to effectively protect it is by utilizing it. One way to maximize your trademark use is by showcasing the registered trademark symbol ® logo on all your products and promotional materials.
Although there's no need to include the distinctive ® logo every time you present your brand name, make an effort to maximize the presentation, especially in large-sized displays. Ideally, it should be in areas where crowds tend to gather. The main point is to ensure that your trademark is readily seen as an advertisement for your brand. Consider presenting your trademark in all publications, packaging materials, social media profiles, and your business website.
5. Monitor Your Trademark 
As mentioned earlier, trademark monitoring is worth considering to ensure your brand stays on the right track. After successful registration of your trademark, you can use the registered trademark symbol ®. During this time, you need to level up your effort and be more meticulous in keeping track of your trademark from possible infringement or knock-offs.
Make it a priority to monitor the USPTO filings from that point. If you find trademarks strikingly the same as yours, you can oppose these applications. A simple cease and desist letter is typically enough to halt a company's application process. Sadly, if this approach fails to work, your trademark registration gives you the right to file a lawsuit in federal court.
6. Maintain Your Brand's Trademark 
After registering your trademark, it's crucial to take the necessary measures to maintain it. Generally, the registration will last for ten years, and you must regularly renew every ten years. It's crucial to remember that you must file maintenance documents after reaching the fifth and sixth years after your registration, on the ninth and tenth years that follow, and every ten years after. If you happen to miss out on one, it can result in the cancellation of your registration.
Final Thoughts  
When you're planning to start a business, a trademark is one of the important considerations you'll have to make. Knowing how to protect and maintain your trademark should be one of your main priorities. These strategic measures will protect your business trademark against potential infringement and stand out in your industry for years to come.