You are a hard worker, a professional, and know how to run your business, but if your office space isn't up to par, it will be hard for people to take you seriously because the appearance of your office represents you.
The best offices are organized, fresh, clean, and look appealing, not just for your clients and guests, but for the people who work in them. Low morale and engagement might not always have anything to do with the workload, and instead, have everything to do with the office environment.
The modern workplace is changing in appearance. It's brighter, livelier, more ergonomic, and doesn't associate itself anymore with the boring look, but still looks very professional. Here's how to do it.
Make Space
Most office owners would say they need more space. That space could be for equipment or maybe space for employees to collaborate comfortably. You can create this space in an already existing office. For a great start, go more digital, and use less paper since paperwork is usually the culprit behind messy looking desks. Less paper is also eco friendly. Similar small changes and having an efficient filing system for the papers you do have are extremely helpful in making space.
Furniture
The furniture can get customers and clients coming or running; it will also create productivity or drain it. Considering how long people spend at their desks, it's only fair that they are sitting on comfortable chairs.
You want ergonomics where chairs can be adjusted in height or tilt for comfort, aesthetics where the furniture suits your office design, and of course, furniture that fits nicely into a room. Now, this is easier said than done.
If you don't have any experience or knowledge about designing an office space, it would be wise to get professionals to do it for you. However, if your office is in Singapore, you're in luck because you can easily find professionals to design your entire office through their website by simply telling them your requirements. They will choose what is suitable for your budget, deliver, and install everything for you. This is a perfect solution for small or big offices that don't have the time, the ability to mix and match office furniture, nor have design ideas but need a sleek working place.
Say No to Corporate Art
It's about time to ditch corporate art, the motivational quote printed under a picture of a mountain climber, or the "together we're strong" type of art expressing teamwork. There's nothing wrong with that, but for an office, you can do better. Consider artwork that represents your line of work.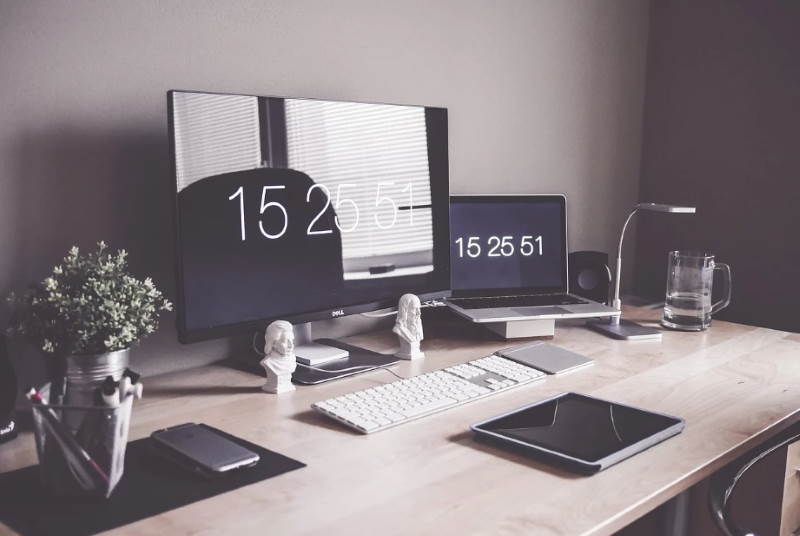 Create a Welcoming Reception
The reception is the first thing anyone is going to see. It has to make an impression. You want an agreeable seating arrangement for guests if they have to wait. Make it an easy layout and make allowance for anyone who needs to navigate a wheelchair. Choose durable material for couches and chairs, warm colors, or the colors of your logo, and a floor that is easy to clean.
Yet, nothing will stand out unless the area is constantly kept clean. During this unprecedented year of a pandemic, it's going to be especially important to keep the entire office clean and disinfected. A quick online search, and you'll come up with a lot of professional advice on how to clean a public area and maintain a healthy environment.
Instant Improvements
Some things might have to wait to be finished, but there are other things you can do right now and see an instant improvement.
Paint
Office walls don't have to be white or a boring shade of beige. A little bit of color that harmonizes with the rest of the items does wonders. There are very few things that a new paint job can't fix.
Lamps
Lighting, in general, is one of the most important aspects when it comes to office designs. Floor and table lamps will give a classy look. Ditch those fluorescent lights forever if you want your office to look sophisticated.
Greenery
No room ever says no to more greenery. Some plants here and there wipes out a cold look.
Wall Shelves
Wall shelves provide more storage space. Also, placing some unique artwork gives a more personal touch.
Scents
No one will ever complain after walking into an office with a fresh scent. There are many automatic air fresheners out there that could keep the office air smelling pleasant and fresh.
Your office is a professional working place, not a jumbo closet stuffed with a lot of unused, obsolete, or old furniture and items. It's easy to have it looking more worn out than it actually is if you don't renovate regularly. By the same token, it's not difficult or expensive to get it looking alive, classier, and engaging. A few changes can alter your office and the quality of your employees' work for the better.