Other than the endless ethical issues many have against fast fashion and mass production, the fact remains that you would still get low quality for an unreasonable price.
Mass production focuses on lowering the cost of production without any noticeable reduction when it comes to the item price. If you are trying to find a high-quality T-shirt with a good fit and a reasonable price tag, your best bets are independent online stores and thrift shops. Other than that, you will probably get a copy of a copy for a ridiculous price, when in reality it was made for only a fraction of that. If you are at a loss for where to look or how to find such requirements, here are some of the most important things to keep in mind that will help you in your search.
What Makes a T-shirt Perfect?
While the fit is one of the most, if not the most, important factor when looking for the perfect t-shirt, this is exactly where many of the available T-shirts in stores seem to fall short. The standardized sizes in most stores are not inclusive of all the different body types and shapes out there.
Quality matters when it comes to certain factors such as color durability, where a T-shirt will not lose its colors after a wash or two and shape durability. Without choosing high-quality material for your T-shirts, you will find that, after a certain number of washes, they tend to shrink or start bulging. If you choose the wrong fabric, you will be left with pilling, those small balls of cotton that appear on the surface of the fabric. After a few more washes, pilling causes the fabric to start thinning at some places which results in a hideous-looking T-shirt. Over time, you will have to throw the T-shirt due to the formation of holes because of pilling. Last but not least, the price tag is extremely important as well because, otherwise, you won't be able to afford to buy it.
Perfect Neck Opening
Crew necks are a bit tricky to choose; you don't want the opening to be too tight around your neck, and at the same time, you don't want it to be too loose. You can click here here for a variety of examples on the right crewnecks for you. V necks, on the other hand, are more suitable for formal attires because they allow your shirt and tie to be visible, where crewnecks are more of casual wear for everyday use. For the perfect V-neck T-shirt, you should be wary of how deep the neckline is. Make sure that the opening isn't too wide and its ending doesn't go past the armpits.
Sleeves
Choosing the right type of sleeves shouldn't be hard to master because most sleeves are made with different body types in mind. However, for guys, there is an important factor to keep in mind, which is the wideness of your sleeves. They should be loose hugging the arms instead of going for a look where your mid-biceps feel strangled. On the other hand, you don't want too much room or a slack around the biceps. These will make your arms look smaller in the worst way possible.
The Body
This is one of the trickiest factors of choosing the perfect fit for your T-shirt. Ideally, the body of your shirt should not be pinched for more than 2 inches on each side of the stomach. This golden rule can be applied for any body type. If you can pinch more or less than 2 inches, chances are, your shirt will look cheap and tacky instead of suits you like a glove.
Length
While women can easily pull any length of T-shirts off, men, on the other hand, need to be more careful while choosing the right length for them. Just like choosing the length of your shirts, your T-shirt should end anywhere between upper to mid crotch. If you are wary about showing too much stomach when you are stretching your arms or reaching up for anything, then you should go for something that ends closer to mid-crotch.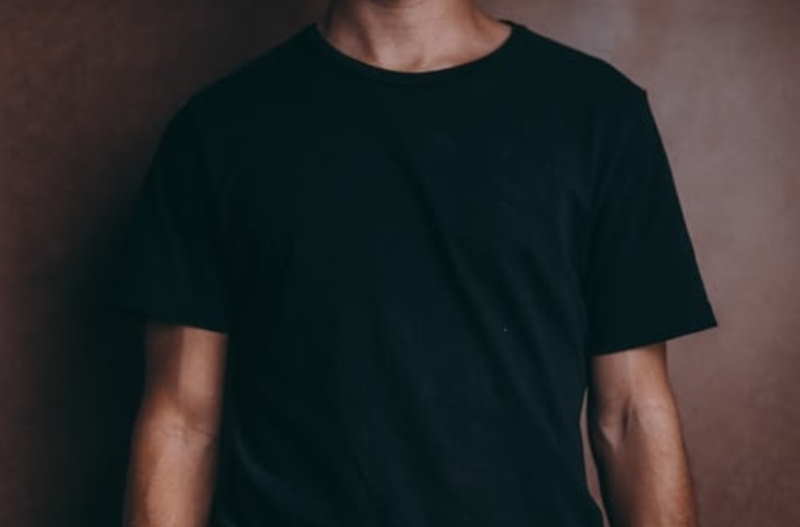 The perfect T-shirt needs more than just a suitable price tag. Many men and women that were interviewed for a certain magazine have all agreed on three factors that make for the perfect T-shirt. These were quality, fit, and price. Without a great fit, the chosen T-shirt won't be suitable because it won't compliment your body shape. It's much easier to find the perfect fit for a suitable price in online stores rather than fast-fashion brands that don't take into consideration the different tastes and body types out there.