Investing in commercial real estate is a lucrative endeavor that comes with its pros and cons. This is one of the best investment ideas regardless of your property type; however, note that commercial spaces are much more profitable than residential properties. Putting some time and effort into transferring your space to be more comfortable and energy-efficient is financially rewarding as these changes will surely increase your property's value. Here are some of the best upgrades to increase your commercial space value.
Eco-Friendly Upgrades
With more and more people joining the eco-friendly train to minimize our damage on the planet, you will find that many buyers care about reducing their carbon footprint. Consider that the environmental impact of your new upgrades will surely attract more buyers and expand your target audience. Think of implementing emerging new technologies such as solar panels and water-efficient plumbing fixtures. Eco-friendly upgrades are known to be one of the major value-increasing factors in many residential and commercial properties. Recently, a lot of companies have invested in eco-friendly properties to improve their brand image.
Flooring
Flooring is the most visible area of any property, making it the first thing that people's eyes wander to when they visit a place for the first time. The first impression that flooring leaves can go a long way with property appraisers and clients. You can opt for cheap, yet good-looking laminate flooring that can withstand a lot of punishment. You can choose a material that's suitable for DIY floorings like loose lay vinyl and vinyl planks. Doing the installation yourself will considerably cut the entire flooring expenses by almost half.
Light Fixtures
The majority of aging buildings come with installed panels of fluorescent lights. These types of bulbs are not the most efficient on the market. Even if your buyers don't care about environmentally friendly spaces, they'll probably pay attention to how cost-effective your space is. This is why installing better lighting and resorting to using LED lights is definitely going to increase your property's value as well as save more money on energy bills.
Increase Rentable Footage
When you're still in the process of meeting prospective buyers or investors, you'll want to make sure that you're offering them a clean slate that can be modeled as required. Similar to home staging, you'll be getting rid of unnecessary things that are chipping away at the footage you can rent; these include furniture, photographs, business areas, and others. After creating a blank canvas, you'll want to ensure that everything is clean, including doors, windows, corners, walls, and carpets. This will help your prospective buyer see a bigger space than it may actually be on paper.
Rooftops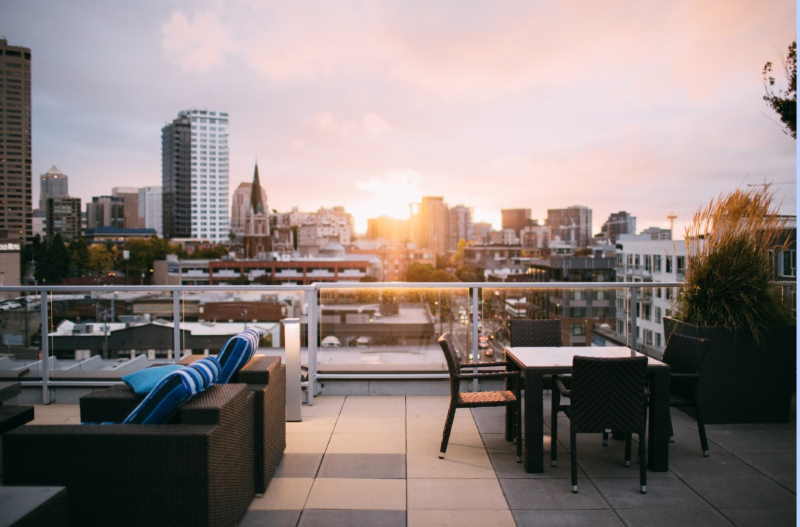 Rooftops are often overlooked in commercial spaces, specifically multi-family properties. Outdoor space is like a bonus that you can utilize to generate a lot of extra profit that would've, otherwise, gone unnoticed. Many building owners realize the importance of rooftops because of how much space and coziness they can provide to buildings, especially in the age of social distancing. There are some affordable options for your rooftop that can allow you to make a considerable profit while ensuring it looks good. You can use sustainable gardens and green spaces to provide insulation to the building from the sun. If your properties are already a bit smaller than what some clients have in mind, they may change their minds if they know they have a cozy outdoors on the roof.
Adding a Gym
You wouldn't believe how incorporating fitness-related establishments or centers could raise the property's price. People tend to avoid gyms far away from their homes as much as possible. Tenants would prioritize the most convenient gym nearest to them, which should be right in the building. Commercial gym equipment costs a lot, but you'll look at it as an investment that will return considerable profits if you do it right. You may want to also consider some liabilities by consulting with an attorney. You can bring in personal trainers and mentors, in addition to offering fitness classes like yoga.
Good Internet Connection
The internet isn't a luxury anymore. A lot of people rely entirely on the internet to work and entertain themselves. Having a slow connection can sometimes deter many homeowners from purchasing or leasing the properties. Millions of people are already working from home; a slow internet can only be a serious and costly threat to their livelihood. You can provide community Wi-Fi with a big radius, but you'll want to ensure that the bandwidth is big enough to handle many people at once. If you're still in the process of remodeling units, you can add in USB sockets, making the unit more technology-friendly.
Commercial spaces can include a myriad of different types of properties, yet they all may have the potential to increase in value. The upgrades you do to your commercial space are best done at the earliest stages to avoid disrupting the investment rhythm. As long as you take the time to view it from the perspective of a potential buyer, you'll know how to implement these upgrades.