Selling online is fast becoming the most profitable and popular means of selling anything.
E-commerce is no longer considered as such. It's just plain old "commerce" now. With the advent of the internet and all the options you have in selling it, there seems to be no slowing down.
The momentum has never been greater and we are seeing massive growth despite all the odds against it.
If you're thinking of starting a retail business, your place to start will be online.
It's where you build your chops. It's where you build your following.
It's where you get to know how things around the business world are done.
When you're running your own business it can be hard to keep track of everything.
Some of us don't really have that knowledgeable background in the business world and want to try our hand in it.
Some of us have been in the retail business for years and see a massive opportunity in the online sector.
If you're new to this e-commerce world, or just want to get on top of your growing enterprise, here is the definitive list of does and don't when it comes to the online selling industry.
The Giant List of "Do's"
Do Treat This Like You Would Any Other Business
E-commerce is just like any other business. Just because it's online doesn't mean that you are not facing the same kinds of pitfalls the other businesses face.
The Internet is merely a platform for you in the same way that a storefront is. A "brick and mortar" is still a way to practice good face-to-face skills.
Even if there have been stories of people with their amazon account suspended, there are actions you can take to prevent it.
From there on, you can spread your reach. The Internet is where you can focus on customers as a whole. When you build skills with an online store, it can translate to all other businesses.
On top of that, if you have a brick and mortar shop, you can directly translate it to an online store, granted you have a good relationship with manufacturing firms.
Do Give Yourself Benchmarks
Since an online store is no different than any other business, in terms of how to run it, It makes sense to set up the same kinds of benchmarks and expectations you would with any other business.
Once you Analyze all the numbers, give yourself projections and goals. For instance, if you made $500 in the first quarter selling iPhone cases, try the best you can to sell $550 worth of iPhone cases the next quarter.
Challenging yourself in sales gets you past all the usual hitches that would affect a rookie online salesperson.
It's the best thing you can do. In order to get good at sales, you're going to have to keep selling.
Make cold calls. Find better suppliers. Build relationships.
Those are still important.
Do Design Your Website
It comes as a no-brainer that an e-commerce store has a website.
Having a good website is what separates high traffic from low traffic. People who shop online wNt to buy something.
They're browsing for the perfect store that has the perfect version of the products that they want.
When you have a well-designed website in the mix, you have the power to control eyeballs and draw attention to the elements that you want them to.
In doing so, you keep them on at the optimal amount of time to get them to buy.
If they stay on too long, they might not make that decision. If your store is too boring, they'll shift to another spot.
Use intuitive user experience and design to get your customers to where they need to be quickly and optimally.
Do Keep Good Accounting
Accounting is the cornerstone of keeping a business afloat. It's also the side of the process that people tend to ignore the most.
When you are on top of the finances of your business, you're taking part in the most crucial side of momentum-building: liquidity.
Start it off basic. Know how much you have and how much you plan on making.
Know the cost and know how much your margin needs to be in order to justify selling the product.
From there calculate volume and project how long it would take you to get back an initial investment.
The next step from there is your accounts payable and accounts receivable.
Timing and using your accounts payable and receivable allows you to map how you can grow your business and in what timeframe.
Do Reach Out To Your Customers
It seems easy to distance yourself while selling things online. You just put the stuff up and make sure it's available. Sometimes it's drop shipped.
That kind of distance between you and your customer base can only last for so long. Depending on the product,  a little bit of engagement can go a long way.
You don't have to go out and get a full summary of their experience. Also, surveys are annoying. Just drop a basic email and say something nice.
Having that true experience gives the opportunity for your customer base to provide authentic information that can help you cater more to them.
Do Continual Market Research
Market research isn't just about what people want to buy. It's about when they buy, how they buy, and in what quantity.
When you put all this information to good use, you can target specific ads to people at specific times. You can predict how you're moving your product and what you can do to improve.
Much like reaching out, continual market research is for them. It's how you take seemingly boring info and use it to your advantage.
Do Practice SEO
You've got to practice SEO.
Search engine optimization is the number one means of visibility in the modern business world.
If you're not familiar with what SEO is, it's pushing out content and linking to others based on keywords that major search engines use to sort out websites.
If you keep popping up on high-value searches, you get bumped up the ladder. If you're on the first page of Google, you're killing it.
You're on the top tier search platform where billions upon billions of eyeballs are present at any given time. The game of search engine optimization is a game of access. You can do it yourself or you can hire someone to do it for you.
SEO itself is not an easy task to do, but neither is setting up a business.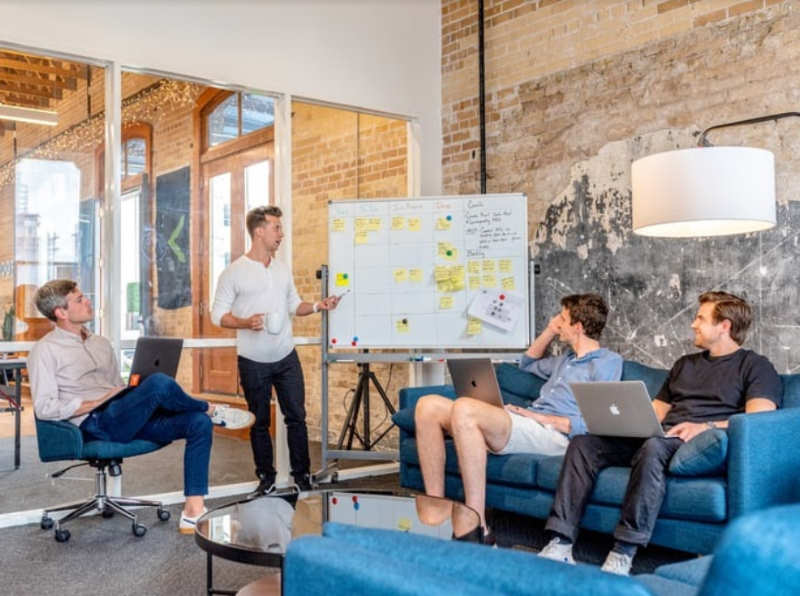 Do Take Advantage of Social Media
Social media is today's soapbox. People do everything on social media in terms of promotion. Social media is seen as the primary promotion arm for almost every operation.
It's the core of modern selling.
People have made millions upon millions just promoting on the earlier days of social media.
In order to use it to your advantage, you have to update constantly. Content is a blip of goodies you're giving for free every single day.
It can be through support, outreach, outrage, humor, and any other mode of communication in between. Taking advantage of social media isn't an option, but instead is a business requirement.
It doesn't matter if you come from a brick and mortar institution that's long been a traditional landscape (i.e. selling forklift tires) a social media presence allows you to be in front of your audience whenever you want. Maximize that opportunity.
The Giant List of "Don'ts"
Don't Forget To Strategize
Coming in without a strategy is like jumping in on a conversation without doing your research.
You can do it, but it's not advisable. You'll just end up looking like you don't know what you're doing.
Have a solid business plan and at least two possible simulations. Try to anticipate the worst-case scenario and the best-case scenario.
Once you've got those two internalized, you'll be able to weave through the middle. Know what you're going to do and set up plans for the big moves.
Don't Micromanage
Although you should have a business plan, don't spend your entire year on it. It's something that will provide the framework and operating guidelines, but it has nothing to do with the tiny details.
Focusing too much on details is an over-thinkers way of compensating for inactivity.
Of course, if the product does not move, it has to be the fault of the tiny and insignificant thing and not the operation as a whole, right? Keep on being flexible with your view and don't get stuck in the minutia.
Don't Outsource Finances (At First)
Finances are not fun. You should force yourself to know them if you don't.
If you're the kind of person that looks at a balance sheet and goes directly to one detail or another without looking at the whole thing? Change that.
Be the kind of business owner that can read the numbers. It will protect you and your operations over the years.
If the numbers can't pass you by, there are significantly fewer chances of you being taken advantage of.
Don't outsource something that you need to get good at. Save that for when you have the experience to hold performance reviews.
Ignore Money
There's a trend in today's online business culture that tends to downplay money in favor of some semblance of a vision and look.
Don't be that business. It's good to be an optimist in business. It's great to have a handle on your image as a whole. When it comes to the numbers, though, there are no smiles.
It is pure math with a side of conservative outlooks. At any point in time, you should be able to give figures regarding cash flow, revenue, and net profits.
Most online store platforms have the means to monitor basic sales numbers. Take advantage of that by adding it to your own separate finance programs.
QuickBooks is the current global standard that translates directly to integrable documents. Remember, you need everything on paper for the IRS and tax purposes. If you ignore money, you'll find yourself in a position of having to raise funds too late. If you're in a panic collection, you've done something to compromise the money side of the business. Stay on top of it and anticipate as much as you can.
 Don't Be Afraid To Change Things Up
There are situations in business, especially in the online sphere, where you'll have to make a decision on how to proceed. This may be due to low sales, a change in regulations, or even a dip in supply. There are a whole host of factors that can negatively affect your bottom line.
The important thing is to be adaptable. Have the ability to look at the situation and pivot accordingly. If you're making more money on an aftermarket detail than an actual main product, limit the supply of the latter and boost the former.
If there's an international embargo on your main product, focus on a niche. There's nothing that's solidly set, especially in online selling. So if you've got the spirit of a pioneer, be ready to head into some unfamiliar waters.
Just don't be afraid to change things up.
Don't Get Crazy With The Freebies
Giving things for free is fun. Everybody loves free. When we give out something for free, we either exchange that value for further recognition or exchange access to their email or social media.
We prioritize engagement when we give things for free online. It's important not to go overboard, though. People are very apt to take advantage of a free trial. People actively count the days before deactivating a service.
In short, free can come back to bite you if you're not absolutely sure that the engagement isn't worth more or at par with the product or bandwidth, you're spending to keep them as customers.
Don't fall into the trap of positive reviews and low sales. Online selling is something that everyone should try to do at least once. It's a massive market that takes a share of 5 Trillion US Dollars. Its scope is everything from tables, chairs, airplane panels, and everything else in between.
Just remember, if you're going to jump into something like selling online, then you have to have the basics down. You might have a master's in business, or you might not. Regardless, online selling is like any other business and will demand giant chunks of your time.
If you heed the above lists, though, chances are you'll do pretty well.