Do you fear startup failure?
As an entrepreneur, you should understand that failure is nearly inevitable. Failure might come in the form of small losses, missed deals, or extreme cash crunches.
According to the Business Employment Dynamics report by the U.S. Bureau of Labor, nearly 20% of startups fail by the end of the first year of being started. In fact, only 30% of new businesses survive for more than 10 years.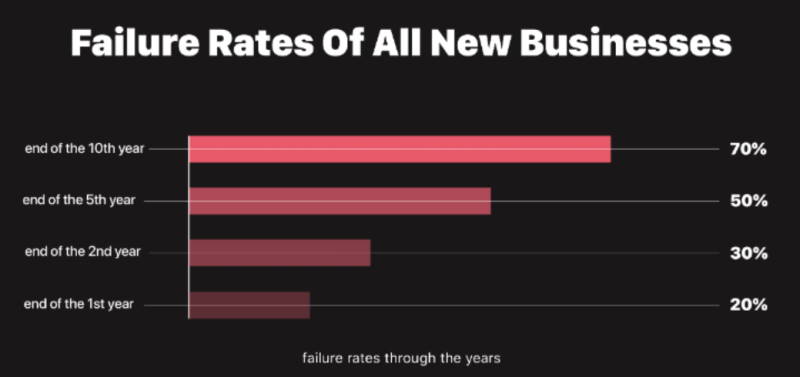 Image via Failory
Even successful businesses are built over a number of failures.
But what makes them successful?
Some entrepreneurs deny viewing failure as an ending. They'd rather take failure as opportunities to learn, overcome challenges, and grow stronger.
This approach of dealing with startup failure is what makes all the difference between failed and successful businesses.
Do you want your startup to grow into a profitable business?
If so, here are a few effective ways to deal with startup failure and use failure to your advantage:
1. Be Prepared
First things first, the key to success lies in good planning.
While most people only plan for success, it is important for you, as an entrepreneur, to also plan for times when your startup might fail. You should plan ahead to ensure that you can keep your startup up and running during troubled times.
To be prepared for difficult times, let's go through the most common reasons behind startup failure, which include:
Lack of product-market fit
Marketing problems
Team problems
Finance problems
Technical problems
Operational problems
Legal problems
You should prepare yourself to face all of these problems right at the onset of your startup.
2. Make Sure That Your Startup Stays Legally Compliant
Starting and running a business is not child's play. There are many legal requirements and a lot of paperwork and reporting involved in operating a business.
Not fulfilling the legal requirements appropriately can land your startup in legal hot water and cost you a lot of money.
Therefore, you should make sure that your startup is legally compliant, right from its onset. This includes registering your business with the state and federal governments, filing annual taxes, and everything in between.
As a new business owner, you might find it challenging to do everything on your own. But don't worry - GovDocFiling can help you choose the right entity type for your business and register it.
They offer easy-to-use business formation packages that make it easier for you to complete state and federal filings and create other important legal documents.
However, you can also consider hiring an accountant or a business consultant to help you with the annual tax filing and reporting needs of your startup.
3. Conduct Thorough Market Research
Every startup is driven by the market. You need to identify a problem that you can solve for your target audience and offer them the solution they need.
A lot of startups fail due to a lack of product-market fit.
To ensure that your product or service is something that target buyers actually need and want, you should research the market.
Conducting thorough market research can help you find out:
What are the major problems people face in your niche?
Can your product or service help people solve that problem?
Are other companies offering similar solutions?
Does your product cost too much?
Do people really need your product?
Is it the right time to launch your product or service?
Answering these questions can help you reanalyze the market demand for your product/service. You can optimize your product and marketing strategy accordingly.
However, it's best to conduct market research during the ideation stage of your business. Doing so can help you save a lot of time, effort, and money, and prevent failure.
4. Build a Strong Team
Many startups fail due to a poor management team or incompetent team members.
Poor management and incompetency can lead to weak strategies, communication gaps, and bad business decisions and practices.
To avoid this, you should:
Hire competent and skilled professionals who are best at what they do.
Set up a proper hierarchy to ensure that people are answerable to each other and the company.
Make data-backed decisions when it comes to strategizing, marketing, and creating a sales funnel.
Figure out the right communication channels to ensure that every team member is on the same page when it comes to business goals.
Maintain transparency to build trust between management and the rest of the team.
Remember, it takes a village to start and grow a business. If you want your startup to succeed, you should focus on building a strong, well-connected team.
5. Raise Enough Funds to Keep Your Startup Going
New entrepreneurs think that they can cut down on the operational costs of their business during the early years. That's true but only to a certain extent.
Every business has financial needs that can't be avoided or neglected, which include:
Start-up costs such as state filing fees, trademark expenses, etc.
Overhead expenses such as office rent, electricity bills, stationery, etc.
Employee salaries
Product/service costs
Customer service expenses
Some entrepreneurs fail to keep a record of expenses and cash flow, which makes them incapable of taking adequate financial measures in time.
As a startup owner, you should always keep a track of accounts and know how long the company can run without external fundraising.
The best way to not run out of funds is to raise enough money before starting your business. At the same time, you should invest the money wisely. You can allocate a specific budget to every department to limit business expenses.
Are You Ready to Use Startup Failure to Your Advantage?
Failure should be a stepping stone on your pathway to success.
You should learn from your mistakes, look for ways to overcome your shortcomings, and make informed decisions to drive growth. That's what successful entrepreneurs do.
In this article, we've put together a few ways to deal with startup failure and turn it into success.
Do you have questions about startup failure and how to deal with it? Ask them in the comments below. We'll be happy to help you build and grow your business from scratch.
About the author:



Brett Shapiro is a co-owner of GovDocFiling. He had an entrepreneurial spirit since he was young. He started GovDocFiling, a simple resource center that takes care of the mundane, yet critical, formation documentation for any new business entity.