People have recently adapted to online shopping, and hence, there has been an upsurge in shipping merchandise from one place to another.
Companies and businesses have greatly benefited from selling their products far and wide.
Demand for packaging solutions able to handle logistics while shipping products safely and securely is on the increase. For many businesses, shipping is the only direct contact that connects them with their clients. Hence, product unboxing should be a memorable experience for your customers.
Nowadays, many packaging companies are using corrugated box than traditional box because of their many layers. The box is designed to keep the packaged product intact to the destination without any issue.
Product packaging entails designing, printing, and producing a covering for your goods. If you expect to branch into an e-commerce segment for the sole purpose of increasing sales, invest adequately to ensure products reach your customer in good condition.
Branding your packing is a fantastic way to create product awareness and make a lasting first impression on a customer.
For your e-commerce business to be successful, ensure that you know the importance of product packaging.
Online entrepreneurs have fewer touch points than physical merchants hence emphasize all aspects that enhance the customer's experience. Research shows that premium packaging makes a brand feel classy, enabling the customer to feel appreciated.
Product packaging is an extension of your brand, more so for online buyers and companies who are willing to spend handsomely on their products.
Though financing a startup is costly, lack of money should not be an excuse for sloppy packaging. There are less expensive ways that you can incorporate to entice customers at every stage of the buyers' journey.
Everyone seems to be online these days, and people love sharing good experiences. Customers can be the best marketing tool for your business, especially if your product leaves a lasting impression. There are uncountable videos, blog posts, and images shared online that relate to unboxing products, and most of them have been produced by clients.
Types of product packaging
Almost every product requires a box aligned with stuffing and cushioning for protection while in transit. There are many different types of product packaging material that you need to know.
Corrugated boxes
Boxes are the most common preferred packaging since they are sturdy, don't add weight to customer's packages, and are recyclable. To add extra precaution, double-walled corrugated boxes are used to provide additional cushioning for the product.
Examples of corrugated boxes include:
Bulk cargo boxes
Corrugated padding
Easy fold mailers
Side loaders
Moving boxes
Storage files
Insulated shippers
Wooden crates.
Lightweight boxes
Padded mailers
Padded mailers are useful in the shipment of small, fragile, or delicate items such as jewelry, electronics, or books. You can increase cushioning by adding paper on the sides.
Paper bags and envelopes
Use poly mailers, envelopes, or plastic mailing bags if you are shipping light, less delicate products. The bags are commonly preferred since they are light, resilient, easy to store, and self-sealing, ensuring easier shipping of small parcels and can be modified to fit your brand.
Branded packaging
Branded boxes with your company logo create a memorable unboxing experience for your customers. Branding and customization can be done on gift wrappers and packing slips.
You can opt to print on the entire box with messages that your customers will cherish. Engage an expert's services to help you come up with exceptional designs that will leave a lasting impression on clienteles.
Creating a custom product packaging experience for customers
Though there are numerous packing and unboxing options available, you don't have to adopt every existing option. Purposefully invest in some of these product packaging supplies to imprint a lasting mark for customers' remembrance.
Packaging
Your preferred choice may be a box, bag, or poly mailer, depending on the product. Brown corrugated packaging is the most common option since it is durable, cheap, and complete the task successfully, but lacks creativity and don't leave lasting impressions.
It is unfortunate that packaging that represents opportunities to impress customers is costly and may not be sustainable.
Opt for biodegradable packaging as an alternative to help maintain the environment.
Tissue paper
Wrapping smaller items in beautifully branded tissue paper add anticipation and increase the level of excitement during unboxing.
Fillers
Fillers such as Styrofoam, wood fibers, air pillows, foam inserts, and bubble wraps can be used for cushioning products while in transit.
Stickers
 If you are struggling financially, opt to print stickers with branded messages instead of printing on boxes stead of printing on boxes. Include extra stickers with appreciation messages to the customer thanking them for making a purchase.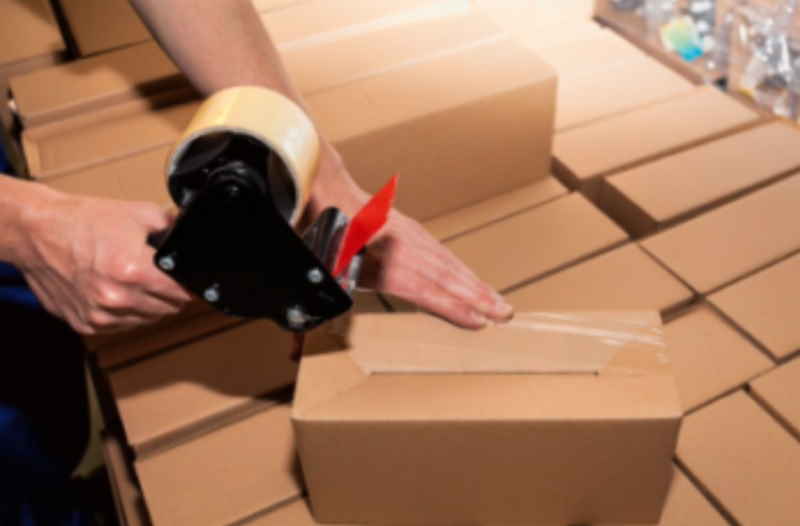 Business cards or promotional materials
Business cards can enhance your marketing experience by adding promotional messages to your package. Develop a creative way of branding the card as they don't have to look like the traditional business cards.
Include your individuality by writing a personal note or a special instruction for the client to get additional value from the merchandise.
Packaging slip
Consider using the receipt or packing slip as a marketing opportunity by customizing its content and design and incorporating promotional messages.
Alternatively, include a coupon on the packaging to encourage repeat orders.
Custom notes
Handwritten notes may be a different yet unique way of earning that new customer. Attract new prospects using a well-drafted personal yet genuine note, and you will be surprised by the positive responses.
Educational materials
Simplified teaching tutorials come in handy especially for electronics. You can customize the instructions to fit the customers' specific needs. Including educational materials in the packaging sends an encouraging message to the customer, which builds trust and communicates customer's support for your brand.
Tape
Customize sealing tape by labeling it with your company logo or mission statement to ensure that your brand is recognized everywhere while in transit.
Free samples and gifts
Considering the customers' purchase history and contemplate including a free sample of a different product that they may find appealing. By introducing a new product to them, they may like it and make a purchase in future.
 Conclusion
For your business to thrive, envisage incorporating customized product packaging material to create an incredible branded unboxing experience for your customers.
However, it is prudent to note that custom branding and packaging experience is time-consuming and expensive. Therefore, it is wise to make an informed decision based on your profit margin after carrying out extensive financial feasibility studies.
Custom boxes and mailers are inclined to be costly when creating a personalized branded unboxing experience.
If your merchandise does not necessarily need additional protection, opt for lighter packaging and save on cost. Be creative, achieve a similar result but also save on cost.