In order to make your business more efficient and profitable, it's important to create an effective CRM (customer relationship management) strategy.
This is a comprehensive approach that helps you track, analyze, and improve your customer service. This is the kind of information that you need in order to ensure that your company's service is consistently great and continues to grow.
By having this data, you can monitor the growth in profits that your company enjoys, improve your sales processes, and increase the efficiency of your staff so that they can make sure that your customers are always happy. However, creating a CRM strategy isn't easy, but there are ways to help you move forward. Keep reading this article to learn about how to create an effective CRM strategy for your business.
Establish A Detailed Business Plan
One of the best steps in creating a CRM strategy is to develop a detailed business plan that outlines the goals and objectives of the company. This document will also identify the challenges and opportunities within the company, as well as the business processes that will be affected by the desired change. Furthermore, a plan can be developed on any number of topics and provide a detailed description of all of the steps that need to be taken to accomplish the desired business change. For example, a marketing department may need to work with a finance or accounting department to develop a strategy to reduce costs and improve profits. Once this strategy is developed, it needs to be implemented.
Moreover, once you've defined and documented your business vision and goals, it's time to define how you're going to meet those goals. Primarily, achieving your business goals through a CRM strategy requires open-mindedness to hear, consider, and try new ideas. Therefore, if you want to attain your goals and visions, understanding the open-minded definition in relation to creating a CRM strategy is important. Remember, a CRM solution will be the primary driver of your CRM strategy, so you need to ensure that it's aligned with the vision and goals that you've defined for your business.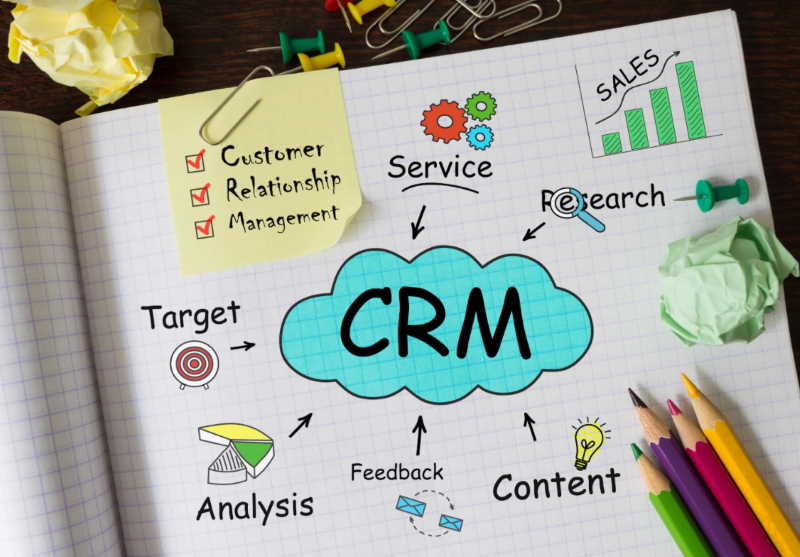 Establish A Communication Channel
Setting up a communication channel for the CRM program is the next step. Once the plan is finalized and, eventually, implemented, it's time to establish the communication channels throughout the entire organization to establish a clear view of the strategy and goals.
These channels can range from the executive level down to the individual employee. The first channel is, usually, the board of directors or higher executives, such as the president of the company. The second channel is the senior management team. All employees are encouraged to participate and contribute so that a positive communication channel exists between the business and its stakeholders and employees.
Aside from the communication channels between the business and the employees and stakeholders, it's also essential to set up a communication channel for your customers. This means you should make sure that your customers are always kept informed of what's going on in your company. You should have a communication policy that ensures you have regular communication with all of your customers no matter what their needs or concerns may be. Also, you should ensure that you respond to any questions or comments from your customers on a timely manner, and that you keep their interests at heart. By doing this, you can grow your business with CRM.
Have A Qualified CRM Team
When it comes to developing an effective CRM strategy for your business, you should be sure that you only hire qualified and professional employees. Hiring a group of untrained people may not help you achieve the kind of results that you're looking for. Rather, you should hire a group of professionals who has a lot of experience when it comes to handling different types of companies, and which can help you build your database, improve your customer relations, increase efficiency, and even make your customer service more personal. They can do this by giving your customers personalized information, such as their name, contact information, e-mail address, and even their telephone number.
By hiring a team of people who are well-trained and qualified, you'll have an efficient CRM strategy that will benefit you and your business in the long run. It will also provide you with a team that you can rely upon when problems arise and will be there whenever you need them. If you're considering implementing an efficient CRM strategy for your business, then, you should hire a group with whom you can easily communicate. That's the only way that your company will succeed and will continue to grow.
Use The Best CRM Software Available
Another thing you should do if you're looking into creating an effective CRM strategy for your business is to get a hold of the latest CRM software that' available. There are a lot of software products in the market today that offer different features to help you monitor and analyze your business's customer data. By being able to see what goes on in your company's customer database, you'll be able to identify which problems have been occurring and what solutions have been put in place. Once you've identified which solutions you have implemented, you can, then, make adjustments that will give your company better customer service.
By finding the right CRM software, you can have the best service possible. The more efficient you are with how you handle your customer issues, the more satisfied your customers will be and the more you can maximize your profits. When you make use of the latest software available, you can easily identify problems before they arise, and also know what to do to rectify them. You can also set up automatic updates to your customer database so that you can constantly be updated on how well your service has been received by your customers.
Conclusion
Creating CRM strategy requires a strong understanding of the customer and how they function in the organization, as well as an appreciation of how the organization operates. By creating a strategic CRM with the help of the tips mentioned above, business owners, like you, can take advantage of technology, improve customer relations, increase profits, and create a stronger foundation for future success.