Let's be real, probably everybody and their mother considered making their own clothes at some point.
How many times have you walked into a clothing store and left empty-handed? In the sea of clothing items that are being produced every second of the day, sometimes you still can't find something you actually like. Everything seems too boring and familiar to you. You seek something new, something fresh, something with a bit of a flair to it. If you think all of the above, you should probably look into starting a clothing brand on your own.
With a few easy steps, you'll be making clothes from your dream and maybe even becoming a millionaire someday. So listen closely!
Where to Start
You figured out that regular boring clothes from the store just aren't your thing anymore, and you also maybe want to dabble into starting a business online. Combine these two together with a little bit of creativity and boom, the start of something new! First of all, try thinking about different ideas and concepts for your brand. What's the aesthetic? What's the buyer group you want to cater to? Pick an exact clothing item or even a theme and revolve your brand around it!
If you are stuck at this phase, but the initial urge to create is still there, try looking at what other brands are making. Use already established and well-known brands and try to understand what's so good about them, see what their brand has to offer, see the range they offer, and try to mimic it. At the end of the day, a lot of those brands like to work with new and fresh designers, you can even contact them and discuss your vision.
Keep up With the Trends
As you brainstorm all the possible ideas for your clothes, don't forget to check up what's hot and trending on the runway! It might not be the type of clothes you'd like to make, but you can still incorporate some small details and still sneak a bit of trendiness in your apparel. You can do this by adding colors or patterns that are popping off at the moment, it's subtle, but it works. Also, a good source of inspiration could be celebrities, try looking at some of your favorite artists and their clothing, you might find the exact thing that will give your brand a certain trendy flair. But above all, try to stay original and true to yourself, it's your brand, it's way better to keep it as authentic as possible.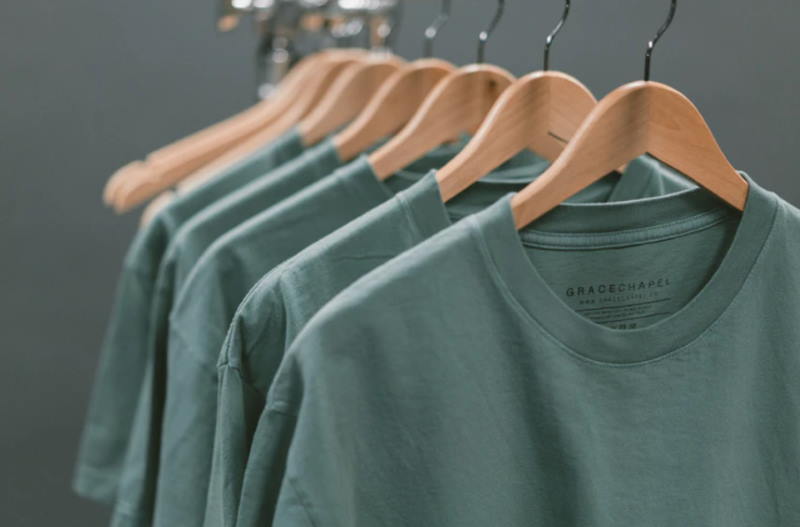 What Comes After the Idea
Once you get everything figured out, talk to your closest people, to your friends and family, and ask for their trusted opinion. This way, you'll get some constructive criticism or hopefully praise you deserve. After that, you're ready to put your stuff out there. Call different companies, offer your designs, talk about your vision, and what you want to achieve with this brand. It's important to have a certain image you want your brand to represent.
Also, if you want, you could hire someone actually to make the clothes so you can sell them yourself, but this way you'll have to do a lot more work, and it will take some time before your brand gets noticed and picked up by stores or companies, so keep that in mind!
Social Media
It is way better to sell and promote your brand than putting it somewhere to reach a large pool of people through social media. You can even buy ads for it, and with a little bit of luck and algorithm magic, your brand will be seen by many potential buyers. Be creative with your marketing, always think outside the box and try to grab the buyers attention at first glance. First impressions are important, so your clothes can't be forgettable. Instagram is probably your best bet, try dedicating a whole Instagram page only for your brand, this is a great starting point before you make an actual website. Instagram is more for putting the brand out there and acting as a marketing tool.
Experiment
Don't be afraid to experiment, it's your first time making something like this, it will take some time and effort to get into it properly. A lot of factors have to be considered, making a brand, and beating the evergrowing competition on the market is pretty hard, but not impossible. Think of it as art, be creative, clothes should be made with a sense of freedom and excitement. People actually want to see something new, so try to be as original as you can't and never give you on your vision no matter how insane it might be!