Selling goods online has been in vogue even before the world started adopting the "new normal."
It's not unusual to see established multinational companies and startup entrepreneurs selling their products and services over the internet.
Running an e-commerce store is not without its challenges, especially for a new business owner who has no idea where to source goods for their online store. Unless you manufacture your products exclusively, it may be a challenge to look for the right sources for your items.
What Should You Sell Online?
With a global pandemic changing the way people shop, there's no better time to start an online store. If it's your first time to start an e-commerce shop, you may want to decide what type of products you want to sell before thinking of where to source them. These questions will help you determine your niche and understand your goals:
What are your interests?
As cliché as it may sound, success is more likely if you're passionate about what you're doing. The same applies when starting an online store. If you're a fitness buff, your interest naturally gravitates towards health and fitness. Therefore, selling health supplements and fitness gears won't be too challenging for you since you somehow understand the market and what customers expect.
What is trending in the market?
It's an excellent idea to observe market trends because you will want to sell products that are in demand. Selling items that no one is interested in is a complete waste of time—even online stores have overhead expenses to consider. If you decided to sell health supplements, find out what is popular among customers nowadays and start looking for a viable source for these items.
What customer problems do you want to solve?
Customer annoyances and pain points can prompt innovative solutions in the form of products or services. Pay attention to what potential customers are saying about existing products in the market. As more people worry about their health because of the Coronavirus pandemic, an online store selling health supplements may be very popular with customers. However, some clients may prefer organic dietary supplements, so it's a good idea to source reliable suppliers of such products.
After determining what kind of products you want to sell online, the next step is to find the right supplier and the best platform for selling. Finding an online marketplace where you can offer your products should not be a problem. You can also use your social media accounts to sell your items or post them at an online auction like William George Auctions. Regardless of your choice on where to sell your products, you should have a reliable source for these items if you want to have a steady stream of supply for your business.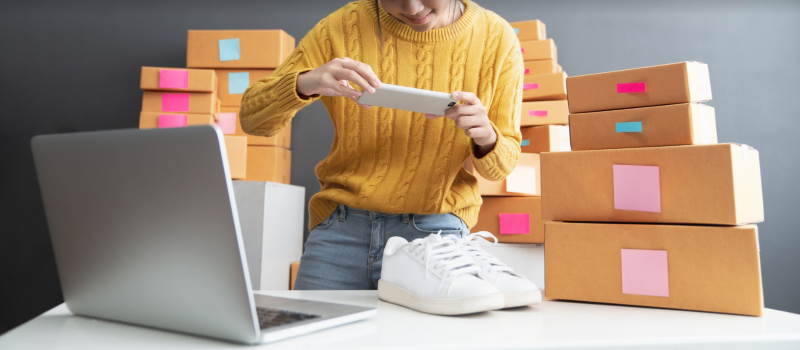 Tips To Source Goods For Your Online Store
There are several options to look into when looking for sources for the goods you're planning to sell online:
Manufacture Your Own Products
There are benefits and drawbacks to making your own products for online selling. First is that you have complete control over the quality of your items. Second is that you can start your business with very little capital. However, this option is best for hobbyists who want to earn some money for their passion but may not be viable for large-scale businesses. Baking cakes and pastries to sell online may seem enjoyable at first, unless you have too much demand from customers, which makes it impossible to fulfill that demand. For example, if you were selling health supplements, you might not be able to create such products since these items are usually manufactured by pharmaceutical and healthcare companies to ensure compliance with safety standards.
Outsource Product Manufacturing
Growing your online cake store may not be feasible unless you have a larger place to produce your products and more people to help you create them. The next option is to outsource the creation of these items to a reliable business partner and supplier. The drawback here is that you may have less control over the quality of the items since another firm is in charge of making them. It's crucial to look for a professional and trustworthy manufacturer who has the infrastructure and manpower to produce high-quality items for your online shop.
Buy Products from A Wholesaler
If you want to sell health supplements online at a competitive price, it will be best if you sourced your goods from a wholesaler. Buying wholesale often means bigger discounts than acquiring the items at a retailer or distributor. However, there are risks involved in purchasing products in bulk.
One of the biggest risks in this option is that your capital may be tied up in inventory, which becomes a problem if the items won't move. You may try asking for consignment arrangements; however, if you are a fairly small online business, your partner may not allow such conditions.
Obtain Products Through Dropshipping
Dropshipping is a viable option for those who are not able to buy products wholesale because of budget constraints. It's also a suitable option for those who do not want to worry about warehousing and those who don't want to manage unsold excess inventory.
If you're starting your online health supplements store, you can look for a reliable partner that offers dropshipping. It only requires the following: building an online store and generating potential customers, and your supplier will be responsible for handling the logistics portion of the business.
Takeaway
Sourcing products for your online business ultimately depends on the type of goods that you want to sell. Niche products and unique items are better fulfilled by partner manufacturers or created by you personally.
For mainstream consumer products, your best solution is to find a supplier that offers dropshipping services because you don't have to worry about capital, storage, and logistics. Buying wholesale, of course, is the best choice if you want to offer competitive prices to your customers. For online entrepreneurs with a buy-and-sell business, finding an honest and credible supplier is essential. E-commerce shows no signs of slowing down, especially during times of uncertainty.
Therefore, it's vital to create and nurture strong relationships with your business suppliers.