When it comes to email marketing, landing in an inbox, unannounced and catching people off the guard, is a big NO! That is the reason why email opt-ins are so sought after.
Email marketing is a two-way process where an action trigger has to come from the subscriber's side first. You can only market your product or service if they ask for it!
Email marketing is a more informed, result-driven communication channel for brands and consumers both. In order to leverage its benefits, businesses need to build an opt-in email list where subscribers willingly choose to receive brand updates.
What is an email opt-in?
When a subscriber opts-in, he/she explicitly allows your brand to send them emails, promotions, information, or any other type of digital communication. Wherein, an email opt-in list is a collection of the subscribers' email addresses who, by choice, opted for your brand to send them marketing content.
With privacy laws emphasizing more on the collection and utilization of an individual's private data, employing an opt-in practice is like a safety net. There are broadly three types of opt-ins:
Single Opt-in (SOI)
The most basic and widely accepted one is the single opt-in procedure. It is when your website or social media visitor fills out the subscription form by giving their email to receive the digital content.
Once subscribers opt-in, SOI considers them as the newest members and adds them directly to the opt-in list.
Double Opt-in (DOI)
Adding one more step before segmenting the subscribers to the email list is how the double opt-ins work. When a subscriber signs-up for the newsletter, the brand sends him/her a confirmation email, asking for their permission to send them marketing content.
Once the subscriber approves and says yes to that email, they become a part of the email list.
Implicit Opt-in
Another way to look at the opt-ins is the implicit entries. For instance, when someone hands over their business card to you or gives out their email for a download or event invitation, you receive the data by implicit opt-in.
The riskiest of them all is the implicit opt-in! Here, people might find it irrelevant to receive your promotional emails when they haven't technically signed up for it.
Reasons why opt-ins are important
To Comply with the Email Marketing Guidelines
The CAN-SPAM Act in the USA and the GDPR in Europe are pretty much big deals. They penalize with serious charges if your email marketing practices aren't in compliance. Opt-ins provide you the permission that doesn't break the law to send business emails.
To Boost Your Email Marketing Metrics
An opt-in email list ensures that a greater amount of your subscribers are expecting and are inclined towards your content. This brings in a highly-engaged subscribers' list that you can bank on. These followers are likely to open, click, and take action from what you offer to them.
To Maintain Sender Reputation
Inboxes are already cluttered and people want to take control of what they engage in. People now want to regulate the type of emails they receive. Sending emails to people that haven't opted for your content is a quick way to invite spam reporting. This can eventually affect your sender reputation and decrease your deliverability.
That being said, let's dive into the Opt-in email marketing strategies that will help you build a healthy and growing email list.
Opt-in Email Marketing Strategies
What triggers the email opt-ins are called the 'Lead Magnets'. These lead magnets can be placed at different locations on your website, separate landing pages, or social platforms. There are even pop-in forms to make this happen. The ultimate goal is to grab your visitors' attention enough that they non-hesitantly invite you to their inbox! Some of the lead magnets or opt-in form examples are,
Pop-up Box
Drop-down banners
Side-banners
Gated content
Freebies
Newsletter signups
Socials
Check out the below images for better understanding.
The examples show how brands are enticing visitors to opt-in for their email content. If we talk about the opt-in email marketing strategy, the game-changing approach is how you slide into their inboxes to take the relationship further.
Copywriters, designers and email developers put together a lot of effort in designing a compelling email template. Once you're ready with your opt-in list, it's time to create a brand presence with your emails. For single opt-in, the welcome emails and onboarding emails are vital, while for the double opt-in, you require a confirmation email template that converts! Both ways, appealing email design is a must!
We've drawn out some aesthetically pleasing opt-in email template designs that can be of perfect help for your email developer's design inspiration. Check them out…
1. Welcome or Initial Email: single Opt-in
Welcome emails bring in an average open rate of 50%, which means that they are 86% more effective than standard emails. These emails should be full of warmth and openness. You can also give them generous offers to make the first purchase or even ask about their preferences. The first email should be for thanking them for joining and asking them to mark you as a 'safe sender' to keep you out of the spam folder. The welcome emails are the best set of automated emails triggered by their opt-ins to set out a relationship on the right foot.
Check out how Detour Coffee Roasters are doing it.
Here is another opt-in welcome email by Blinkist that is worth a look.
2. Verify the subscriber's email (double opt-in)
This is the phase where you want a confirmation and permission from your subscriber's side for their opt-in. The email list based on double opt-in is accurate and more engaging as compared to single opt-in, but the catch here is, people might find it lengthy to verify twice just to be on someone's newsletter. However, brands are doing pretty well with double opt-in emails too. Here's an email by Republic.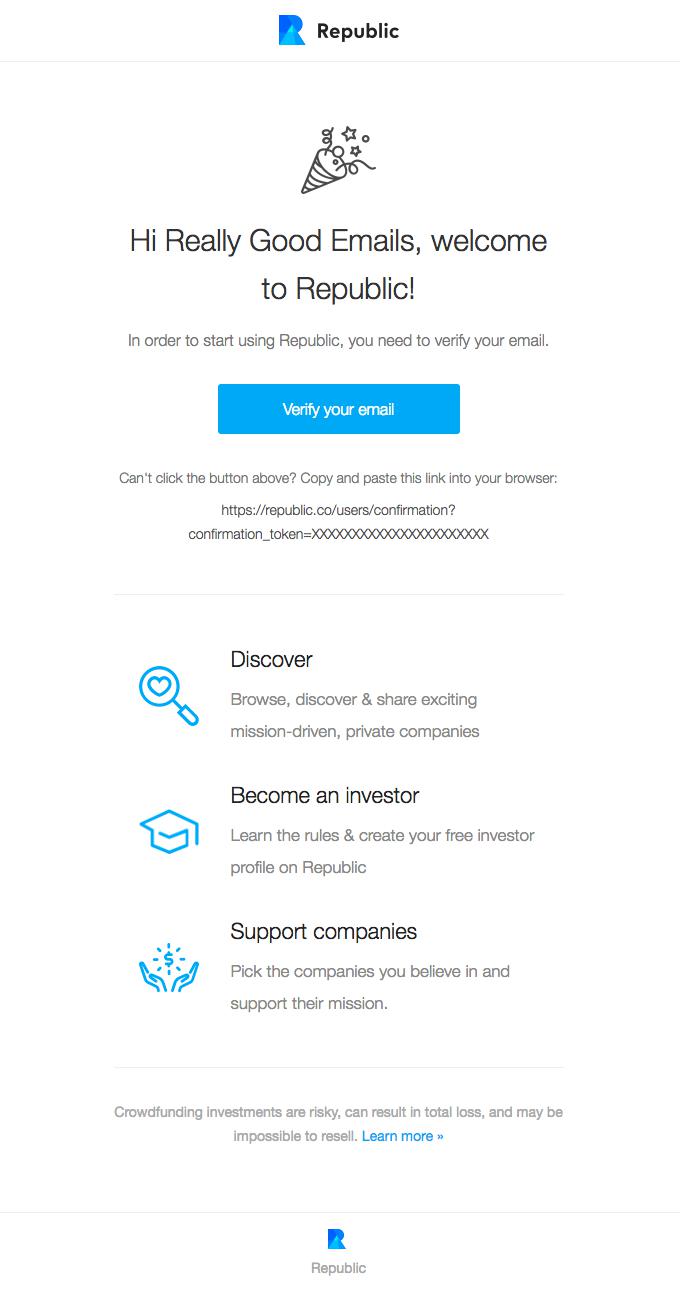 Here's another template by Auto Trader that is asking their email list for whether they want to stay subscribed.
Wrap Up
That's it from our list of opt-in email marketing strategies. When you are managing your automated email campaigns via trusted ESPs, there are provisions for single and double opt-ins for your email lists. And as far as email templates are concerned, you can also find premade Mailchimp templates, Salesforce Pardot email templates, etc. to flourish with your opt-in email campaign.
If you still need help with responsive, custom emails, never hesitate to seek an expert!
Author Bio
Kevin George is Head of Marketing at Email Uplers, one of the fastest-growing email marketing agency, and specializes in crafting professional email templates, PSD to HTML email conversion and custom Mailchimp email templates in addition to providing email automation, campaign management, and data integration & migration services. He loves gadgets, bikes, jazz and eats and breathes email marketing. He enjoys sharing his insights and thoughts on email marketing best practices on his blog.