With most of the world currently in lockdown having a digital presence has never been as important.
If you don't have a digital presence or you're using this downtime to improve your online visibility this is the article for you.
Digital marketing can be expensive but if you are just starting out or don't have the budget to pay an agency you can put the work in yourself and still get impressive results.
Let's start at the beginning and talk about your website.
Website Optimisation
When creating a digital presence your website should be your first point of call.
Your website should clearly state what you do, how to buy from you and how to get in touch with you if there's a problem with the service or products you provide.
You can make your website for free on a website builder such as Wix.com when starting out but if you do have some form of a budget I would say to use this on your website. Having a website that doesn't look trustworthy is going to cost you more money than you will spend on it in the long run.
If you have no budget then you can either use a website builder or follow tutorials on Youtube that can help with setting up a website for your business.
If you do decide to design your own website keep in mind that it doesn't have to be flashy and include all the bells and whistles that you can add to a website.
Adding music, animated GIFS and anything else that can distract a potential customer should be avoided. Once again, your website should build trust with your potential customer so you should make sure the branding of the website matches your physical business and social media accounts.
By using the same colours, same fonts and the same messaging on your website, brochures and social media you start to build trust with potential customers which will make the barrier to a sale smaller.
Once you have your website ready to go be sure to make a backup copy of the site and the content that you have put on it.
Jason Lewis, a backup engineer from FirewallTechnical.com says: "Backing up your data should be an important part of running your business. Backup solutions don't have to be expensive and can be anything from storing your website on the cloud to an external USB drive."
If you lose your website due to a hack or something as simple as forgetting to renew your website hosting it can have a devastating and costly effect on your business.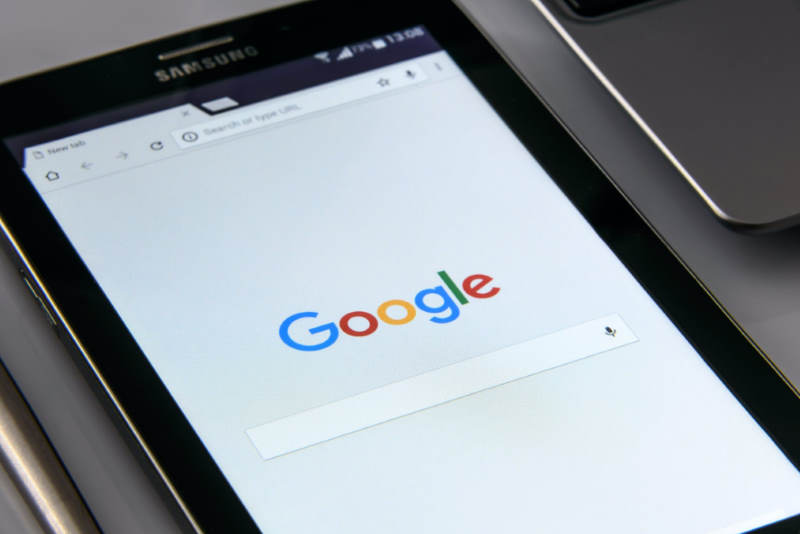 Getting customers through search engines.
When your website is set up and you're ready to start marketing, a great way of getting customers is through search engines such as Google.
When a potential customer searches online for the service or product you provide you will want to show up on that first page of Google. If you don't the potential customer is going to buy from a competitor.
There are two main parts to showing up on the search engine results page the first being something called on-page optimisation which involves making sure that Google and the other search engines know what your website is about.
The second part is something called off-page optimisation which involves getting other websites to link to yours. If you can get relevant websites to link to your website you are then going to show up higher in the search results.
You can hire a company to do this which can cost a lot of money or you can do this yourself.
This process is known as link building and can be difficult but if you are willing to put the time in it will pay off for your business.
An additional benefit of link building is that the websites that link to you not only help you show up higher in the search results but they can also send you customers if the website is highly relevant.
If for example, you own a clothing shop for babies, a relevant website to try to get a link from would be a parenting blog. On that parenting blog, you could create content that other parents would be interested in such as an ultimate guide on weaning your baby and at the bottom of that guide, you could have a link to your own website.
Parents who find your guide useful may scroll to the bottom of that post, click across to your website and potentially purchase a product from you.
Using the same example, a bad link could be from an exotic car blog. If you put a post together on the best supercars of 2020 and linked back to your baby clothes shop that link wouldn't be useful and Google would see that too and you would get no benefit from it.
It's important to remember that all of the above can take time to show results on the search engines so you should aim to start all of the above as soon as possible.
Social media marketing
While long term results from social media marketing can take time, it can still be used to generate short term results for your business providing that you are connecting with the right people and creating the right type of content.
Most businesses think that social media marketing is take-take-take but the truth is you need to provide people with content that is going to make them follow you and eventually become a customer.
Social media marketing is a great tool for both business to business and business to customer.
Firstly you will need to think of where your customers hang out and then create accounts there. Many businesses fall into the shiny object syndrome and jump from one network to another just because one is hot right now.
If you sell business to business your ideal social media account could be LinkedIn, whereas if you sell directly to customers they may hang around on Facebook.
Posting your content on the right channels is very important so take the time to figure out where your ideal customers spend their time on social media. If you can't be 100% sure pick your top three and stick with them for a few months.
Running your business and keeping the content flowing on your social media channels can be difficult and it's easy to neglect them sometimes so you can use tools such as Hootsuite or Buffer to schedule your posts across various channels when you have some downtime.
Social media is also a great way to interact with existing customers and by doing so you are increasing your brand visibility. If you share content and tag one of your customers in there is a good chance that they will see this and also share it with their followers which could send additional business your way.
Hootsuite has a great guide on social media marketing tips which can all be done on a small budget.
Cold emailing for business
If you sell business to business cold emailing should not be ignored. Cold email is cheap and can get you results very quickly.
Cold email is a difficult marketing channel because it tends to have a bad reputation. When people hear of cold emailing they think of spammers sending the same message to thousands of other people and while this can work it's not the best way of getting clients for your business.
To get clients through cold email you should make a list of businesses that you would like to work with.
To get started, make a list of 100 businesses and find the contact information for the person who is likely to deal with what you have for sale.
You can then use tools such as Hunter.io and ViolaNorbert.com to find that person's email address.
When you have the company name and persons details you can begin the cold email process.
You should reach out to these people with a custom email, don't spam the same message to everyone because you're likely to end up in the spam box.
Keep your message short and don't go for the sale right away. Instead, see if there is any interest and try to book a meeting with them. If you do this enough times you will land clients very quickly.
Cold email is a huge topic, so if you want to learn more check out this cold email guide.
Conclusion
Using the above marketing methods can bring in results in the short, medium and long term. It's important to implement a system for your business in which you can be consistent. By doing so you can then see what methods will work best and you can then dedicate more resources to that form of marketing.
If you bounce from one method to another without giving them all a fair chance you will not be able to collect the data to give you an idea of your best marketing channel.
Of course, there are other methods out there of generating business which we haven't covered because they would need a higher budget to get results. PPC marketing or social advertising can produce results quickly but you do need a considerable budget to see what works and what doesn't.