Going on a business trip enables an organization to meet with clients or team members, create new partnerships, expand their market, and enable their personnel to attend special events.
The main objective of the trip is to be productive, but sometimes unpreparedness can lead to failures.
For some, packing for the trip can even be stressful.
To help prepare for your business trip, here are seven essential items to carry.
Suitcase
One inherent item is a piece of luggage to store all your essentials.
Choose carry-on luggage that you can utilize for trips lasting an average of three days, as this is the standard duration for business trips.
A bag that is expandable and with separators will ensure to fit all your things while keeping it organized.
It should look professional yet unique enough to stand out from the sea of bags, especially at the airport.
Clothing
Select clothes that you can comfortably dress up or down. You do not need different sets of clothes, just look for those that you can mix and match.
It is also essential to look at the activities in your itinerary to prepare how you should dress.
You may also research possible events in the area you'll be visiting and bring some appropriate clothing for it, just in case of sudden changes in the schedule.
Packing cubes will also come very handy in keeping your clothes sorted and clean.
Toiletries
Looking professional also involves your grooming.
Bring along travel-size toiletries that can easily fit your bags. Hotels usually provide some, though bringing personal items will enable you to maintain your routine.
Everyday items to pack are dental care, shampoo, conditioner, deodorant, makeup, shaving cream, perfume, to name a few.
Electronic Devices and Gadgets
Smartphones are essential for work and personal usage. Remember to bring these and check that your chargers are also packed.
Download necessary applications such as maps or translators, if needed, and other relevant files if this would be your primary device.
Other essential gadgets to bring are laptops, tablets, flash drives, headphones, and portable WiFi. Cable organizers are also useful to ensure that all the cables you need are present and in order.
You may also want to bring some travel adaptors and wireless battery packs.
Business Documents and Supplies
Depending on your trip and the event that you are attending keep in mind to bring your presentation materials, markers, pens, business cards, notepad, or even trade show decors.
If paperwork is still necessary, bring along a durable file case.
Travel Documents
These items are especially crucial when traveling abroad. Ensure that you have a passport that is three to six months validity, a couple of IDs, and visas if necessary.
Other countries also require particular medical certifications and vaccination requirements.
Include in this set a copy of your itinerary and your boarding pass.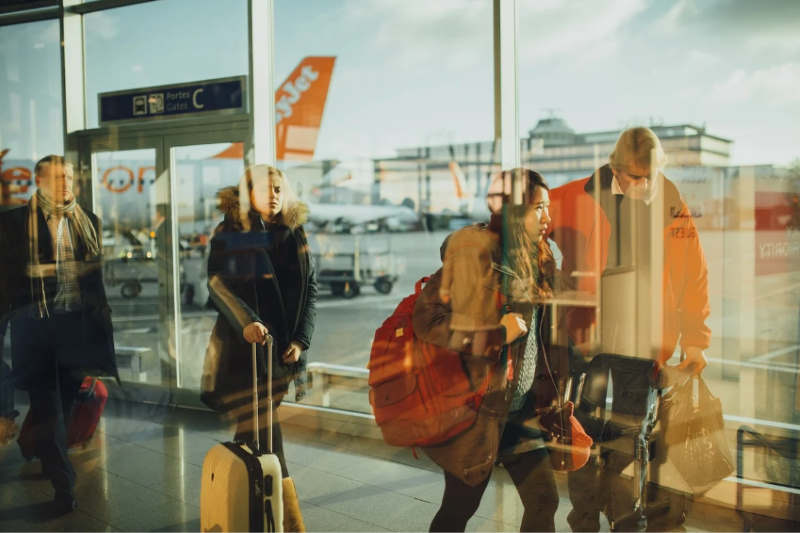 Water Bottle
It is essential to keep hydrated during your travels.
Invest in a water bottle with a purifier to lessen your worries about having safe water to drink. Various types of water bottles can also be used for both cold and hot beverages.
Traveling for business can be fun.
You just need to pack light and bring essentials that will help you look professional. Your supplies and business documents should be well kept or readily available on your devices.
Also ensure that you have cables and adaptors ready, to avoid unnecessary disruption in your meetings just because your device is running low on battery.
Furthermore, to circumvent predicaments have your travel documents ready.
Take care of your body too by bringing a handy water bottle with you.