Starting a new legal firm is exciting and is one of the best decisions that you will make as a lawyer.
However, this bold step comes with its challenges as most schools of law do not give the practical lessons that show you how to start businesswise.
This article is, however, beneficial because it highlights what a new law firm should have to make work easier for you as you set out on a new journey.
Note that the needs of different firms will vary slightly depending on the staffing needs and the type of law being practiced.
1. Business Name
The name of your firm will define its identity for years to come. Traditionally, many practitioners went with naming the firm after the attorneys who started the firm.
While this was always an excellent strategy to help identify the law firm, there is so much more you can do in your attempt to name your company.
You can name the company according to the area of practice to make it relevant and for it to stand out and appeal to clients.
You should also consider the business name when you are choosing a domain name and during the entire branding process.
2. Location
The concept of having a location depends on the stage at which you are in your career. For example, a lawyer who is starting can consider working from home to reduce the financial implications of having a location.
However, in the long-term, the idea of having a home office may not be viable because your home is not the ideal place to meet clients.
It may, therefore, be a good idea to consider having an office from the start.
If you are a single practitioner, however, you can take advantage of virtual law offices that are coming up in contemporary times.
3. Office Equipment
Your office will surely need electronics and furniture for it to be functional. You will require photocopy machines, telephone systems, printers, and scanners.
Also, you will need computers, most especially if you are planning to have a website for your law firm.
A law firm practice management software will be of great help to manage the intricacies of dealing with clients and the practice.
Gone are days when you had to spend your time writing and filing documents.
Management software can help you conflict checks, time tracking and billing, filing, and accounting. This takes the struggle out of every day running a law firm.
4. Library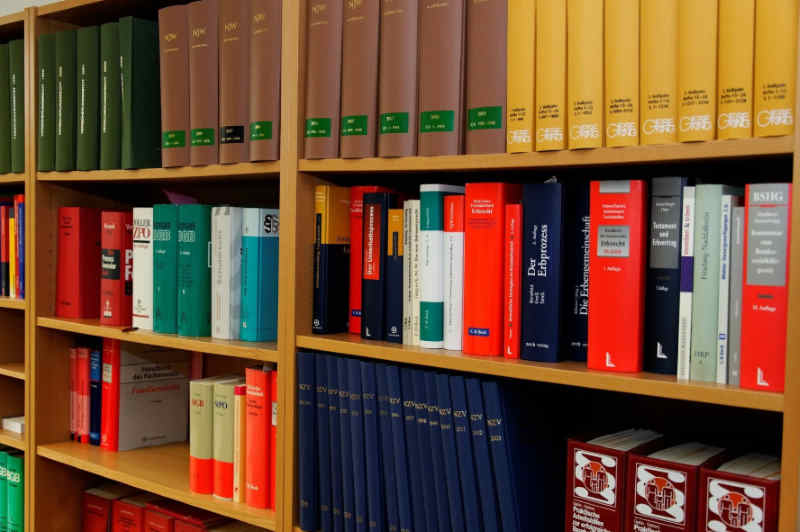 Any functional law firm needs a library for its lawyers. It is, however, essential to note that a decent library can be expensive, even in the long run, because the law is always evolving.
Case law and practice guides are always being adjusted and updated, bringing about expenses in a library.
If you, however, cannot set up a library of your own, all hope is not lost. You can set up your law firm near an accessible library and cut down on the expenses involved in running a law firm library.
To top it up, you can avail of online self-resources.
5. Staff
As a starter, you can handle all the nitty-gritty in the office.
However, as your law firm expands and begins to handle more clients, you may find yourself in need of staff members to help you in the management of day-to-day activities at the office.
Delegating your administrative and office work can be helpful as it will give you a chance to take some time off for yourself.
You will be able to focus more on your core business in this way.
6. Permits, Licenses, And Identification Numbers
When you are starting a new firm, you will need to meet local and state requirements depending on your country.
You will also need an EIN- the federal Employee ID Number. Having these documents ensure that you are on the right side of the law.
It means that you will never have any quarrels with the authorities. Acquiring permits and licenses is simple as it's the case with the other businesses.
Starting and running a legal practice venture is like starting any other practice.
There are challenges along the way. However, with the right mind, and a working plan, it's a walk in the park.
There are things you need to ensure the smooth running of your legal firm. Listed in this article are the top six things that you must-have for your legal to operate effectively.
By reading through the piece, you will understand how each of the six is crucial when it comes to delivering positive results.