Wondering what coupons do? You can actually save money from these redeemable documents.
Even when you love shopping but hate spending much money, you can still save up yet have the same quality of items when you shop.
That's when the idea of using coupons come into view.
One way to do that is to start using coupons to be able to avail of valuable discounts on certain items during your regular shopping.
You may be pleasantly surprised by how much money you will be able to save each and every time.
Here are some ways on how coupons can give you big savings when you shop:
Get Coupons For Items You Really Need
It's easy to get carried away by all those dollars and cents that you could save if you buy an item.
But before you go all out on something, you should think about it carefully.
As a tip, before buying an item, always ask yourself if you really need that item.
If so, check also the brand since some brands may be expensive.
If you feel that the item is really more of a luxury than a necessity, it may be best to forgo getting coupons for that while money is still tight.
Use coupons on your needs instead of buying them for luxury.
Use Your Coupons When There Are Sales
Along with having coupons, it's a good idea to anticipate the time when the items you want will go on sale.
That way, you'll have double savings.
Not only are the items marked down but you can also avail of the discount for the coupons you present, saving you more money.
Take note that some stores offer sales regularly at certain times of the year.
If you know such stores, then you can clip out your coupons and mark your calendar for the times when each coupon can be used at a particular store.
All you have to do is sit tight, be patient, and wait for the month when the store will go on sale.
Incidentally, offering sales is a strategy of many retailers so that shoppers become repeat customers.
This is great for you because you get big savings that make you want to come back for more.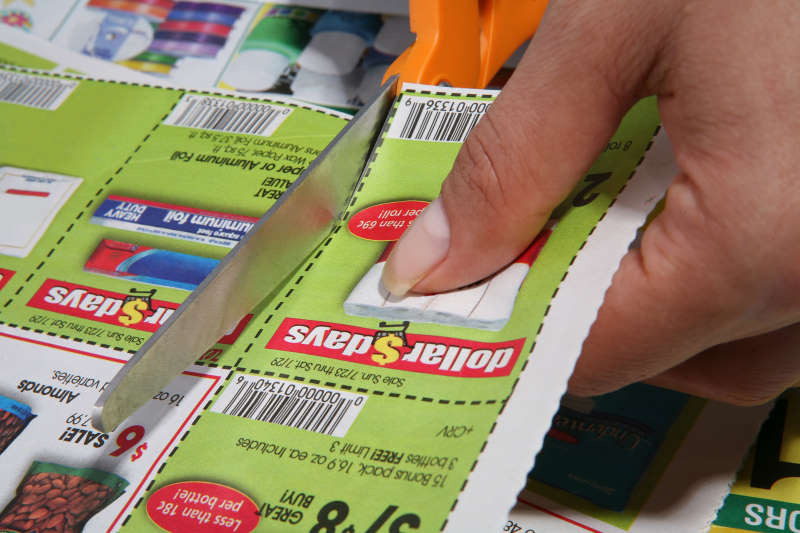 Get Coupons for Name Brand Products
Did you notice that there are a lot of coupons offered for branded items, especially in supermarkets? Sometimes, the discounts are so big that people would be insane not to prefer name brands over generic products.
Generic products might be of lesser quality than name brands but they are priced lower which name brands don't like.
So, the manufacturer and/or the retailer will offer coupons on the name brands so that you save even more that way.
The big winner here is the consumer because you will be able to get something that is of premium quality at a lower price than you normally would.
Use Two Coupons of the Same Kind For the Same Item
Some manufacturers and retailers allow you to use two or more coupons of the same kind that can be used with the same item during one purchase.
This means they will permit you to get that kind of double discount on that same item.
Not all manufacturers and retailers allow this though so it is best to check out the rules on the website where you got your coupons first so that you are sure.
Get Familiar With the Price Range of Frequently Bought Products
If you intend to use coupons regularly, such as those honored at supermarkets, you will need to become familiar with the cost of products that you usually buy.
This will allow you to gain an "eye" for spotting great deals when clipping out coupons.
If the product seems to be on sale regularly at one store, look for it in other stores to see how highly it is priced.
This will show you how much shoppers usually pay for that item, even when there is a coupon for it.
That way, you don't run yourself ragged trying to catch up with "sale days" or trying to find the right coupons for your shopping day.
Check If There is A "Return Item" Policy
One crucial concern is the quality of the items for which you intend to use a coupon when you visit the store.
Of course, you really do have to check for the quality of the item first and need to check its expiration date, but some items are hard to pre-check during your shopping day.
If the store doesn't allow you to return the item, you may write to the manufacturer or the importer about your bad experience with their product.
You can explain that you bought the item because you had a coupon for it but also because you really like their products.
You can express your disappointment with this particular item in your letter.
A responsible company will write back to you, apologize for the inconvenience and replace the expired item with one that is of good quality.
They may also offer you discounts for future purchases, to make up for their error.
Final Thoughts
It pays to be aware that there are some websites that allegedly offer valid coupons but turn out to be hoaxes.
To avoid such scams, get your coupons from reputable websites that are owned by the manufacturer or the retailer themselves, such as Coupon Dad.
Having the right coupons in your wallet or purse when you go to the store is like having money handed to you for free.
You will be able to save quite a bit if you have the correct coupons.
Bear in mind that you need to check your items if they are already priced below the usual retail price before you give your coupon at the cashier.
You may also get a good deal if you're allowed to use two or more coupons for the same item at one time.
Don't forget to inspect your items for product quality as well, especially if they're on sale so that you don't wind up with expired items that just wind up in the trash.