If you're a person that loves to create things from ideas, then you know that crafting is certainly for you.
Anyone who loves to make things with their own hands from scratch opens themselves up to a whole world of possibilities.
We all know how exciting, fulfilling and addictive it is to create something from scratch- but what if you're actually really good at a certain craft? What if your designs are unique and might just have the prospect of potential to become something more? Many people take their craft skills and turn their art into a business.
The real question is, what kinds of crafts really work when it comes to business?
This is why we've made a list of the most profitable crafting business ideas for the budding creative entrepreneur.
Jewelry
If you're good at making jewelry or would like to learn how to make it, then this is an extremely profitable market to get into in terms of business.
There are classes that you can take to learn how to work with wires and how to bend them in a way that will help you create all kinds of jewelry.
You can use any kind of material you like to experiment with your creations and look at what is trending at the moment to at least figure out where to get started.
Sewing Projects
If you love to sew, then there is certainly a number of options for you to turn it into a money making craft for yourself.
The first thing you need to do is decide what it is that you're going to be sewing- are you going to be making clothes, bags, pillow cases, and so on? Keep in mind the kind of fabric you're going to be working with because there are different kinds of sewing machines made for each task and material.
Reading up on reviews from CraftyEmma.com can help you narrow down, which would work best for your project.
It's imperative that you do research on this first so that when you make an investment in a sewing machine, it is one that will do the job right and give you the results you want.
Picture Frames
This may seem basic enough, but if you're really creative and come up with wonderful and unique ideas, you'll find that it's a market that never gets old.
People always want their loved ones and memories framed in amazing picture frames that stand out.
All you need is an idea that is original and you have a shot at making cash out of your arts and craft ideas.
Pottery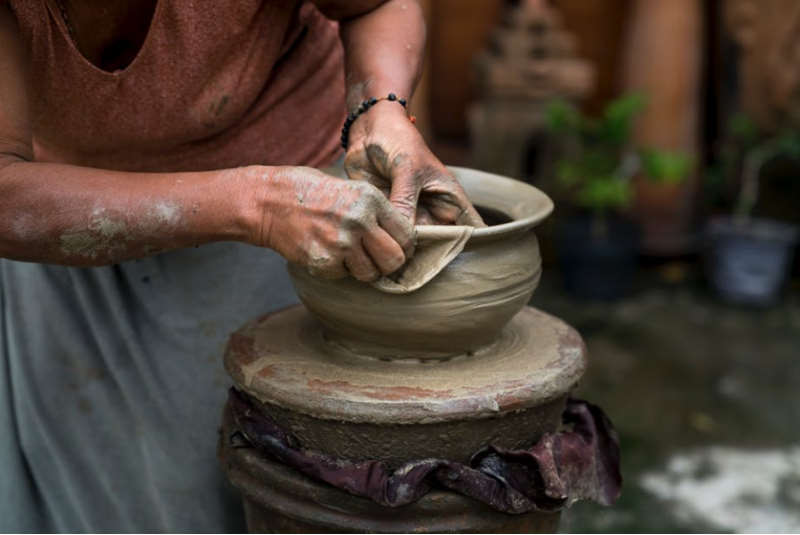 Pottery is another great crafting business idea because the items that you make can be extremely practical and beautiful at the same time.
You can do anything from teapots and cups as a set, to a whole dining set of plates and bowls, to mugs or centerpieces, or even bodies for lamps.
The business prospects with pottery are plenty and if it's something that you're good at,  then you should certainly consider putting your creations out there.
Candle-making
Another crafting idea that is good for business is candle making.
While this is pretty straightforward, it could be a hit or miss if you don't produce quality candles with great, soothing smells.
You might want to think about how you'd be unique with your candle designs, perhaps you'd like to create sculptures of them or shapes of different creations.
Natural Soaps
The world is becoming more and more inclined to use things that are organic and natural, and that's why getting creative and creating your own natural bathroom necessities such as soaps can go a long way in terms of business success.
You can use a variety of natural ingredients and experiment on what combinations work best for the skin.
The world of crafting is so broad that there are a number of options that are actually quite credible when it comes to using them for potential business ideas.
The first thing you need to do is find your passion! Take a look at the ideas that we've mentioned here- the common factor is that they are items that are always in demand, and so the first step is taken care of for you! You need to do more research into how you can build a business model around your craft and look into the different platforms on which you can start your marketing plans as well to get the word out there about your amazing craft ideas!