Nowadays, everything you see in an office is a part of a design to promote productivity.
An employee-friendly office not only spells safety for your employees, but it also maximizes their time and potential for that day.
Having the right furniture in your workplace will not only improve your environment, but it also speaks volumes about how the business is taken care of.
Finding the right office furniture will help you create a workplace environment that fits your style, accommodate guests, and make your employees work effectively.
It's recommended to buy a set rather than individual items to have a cohesive and matching design.
However, if you're up to mix things up you can also do so if space requires it.
Here are some essential furniture you can pad out your workplace with and tips on what to buy:
Chairs
This is one of the essential furniture you'd want to choose wisely.
Your employees' health and comfort should be one of the things you'll consider when buying chairs.
Most employees spend the majority of their time sitting down.
To prevent back pain and body aches among employees the sitting position should allow the legs to rest on a flat surface.
The bend of the leg should be angled at approximately 89 degrees.
This promotes circulation and reduces triggers of pain.
Offering them chairs with strong back support with an ergonomic design will reduce stress and will help them be more productive.
Storage or File Cabinets
If you have too much clutter in your office, it will add to the stress that's already inherently present in a work setting.
You should have a storage space or a file cabinet for things that need to be kept.
These cabinets should also be labeled properly so that people will put files in their respective places.
You can use a closet or an empty room to make a storage room and place your archives for safe-keeping.
You can also put shelves for important references that need to be accessed easily when needed.
Desk and Work Table
This depends on how your business operates.
If your employees require a solo station or desk or if a large work table suits their tasks better.
You need to consider what a person does and if it requires a lot of collaboration with the team then a communal table will work better.
And if the task is mostly a solo or collaboration only happens over the phone, then a dedicated desk would fit them better.
Guest Chairs
You'll want to be hospitable to your guests, whether they're clients or customers, you should offer them a comfortable place to sit in your office.
You'll want an armchair and a quality desk.
You can improve the design by using upholstered chairs with amicable colors.
Conference Room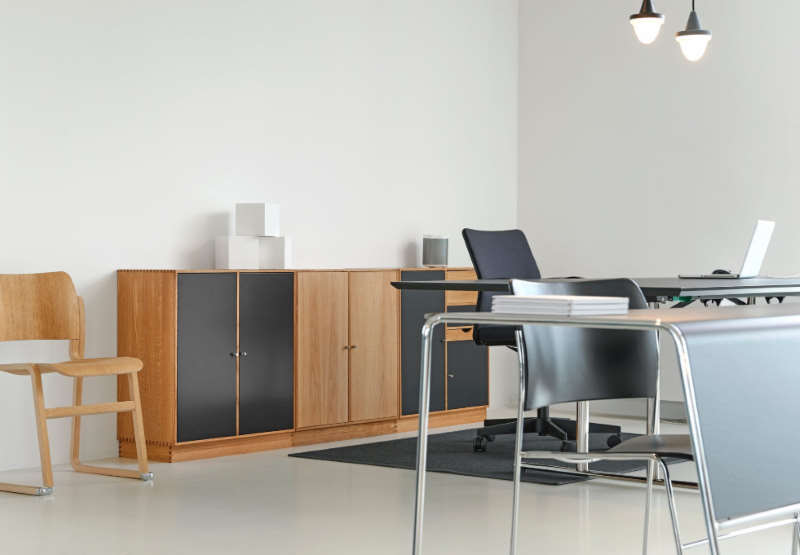 You should provide the right furniture for meetings or private conversations.
You can use a large table with the right number of chairs depending on the area of the room.
Having a table with a minimalist base will provide bigger legroom for the attendees.
Use chairs that offer mobility with arms so that they'll be comfortable and unrestricted.
Of course, there are still things you can add to your workplace to make it complete.
Make sure that it fits your budget and it's necessary to have them.
Also, consider the space of your office because it won't make sense if you have beautiful furniture, but no place to put or use them.
There is also the matter of maintenance and hygiene to consider so they won't be haphazardly sitting in your office waiting to injure somebody.