Whenever you're at a party or a special event, you'd always feel like you're missing something if you can't freeze one moment and take with you.
The abundance of smartphones that can capture crystal clear images has made it possible for everyone to take a photo whenever and wherever.
So what's with the photo booth? If you're the organizer of the event, you would want your guest to feel comfortable in front of the camera and get the shots in the theme of the event.
You can talk with your supplier to add more artistic flair and tweak some of the themes to make it a better fit for the event.
The service provider should bear the hallmark of entertainment and creativity in their service.
It's not enough to be a dime in a dozen, they should bring their unique style and ideas to the affair so that they'll be remembered.
If you're looking to hire these services in your area you can refer to a list of photo booths in your city.
This online resource already has information on the providers readily available.
They also have reviews on what makes a particular booth special and how they could be a good fit for your event.
Here are some of the artistic ideas you can do to make your booth stand out:
1. Chalkboard
This a common design for a wedding theme booth because it has the flexibility to be modified on the spot.
Using a chalkboard as a background you can write quotes, poems, jokes, or even draw something in line with the theme.
You don't have to cover everything on the board just place the designs strategically to make the entire photo come together.
You can also have the guests write something on the board to make their photo a unique snapshot of their own.
One good tip is to leave the central part blank so you'll have a spot to do your revisions and designs on the fly.
2. Tropical
This is a good theme for summer events and if you're having a tequila night.
You can place beach apparel, umbrellas, beach chairs, and of course some tropical plants.
You can use a computer to make things convenient and easy for you or you can use real props to make it more interactive.
You can bring hats and comical eyewear to make things more theme-appropriate.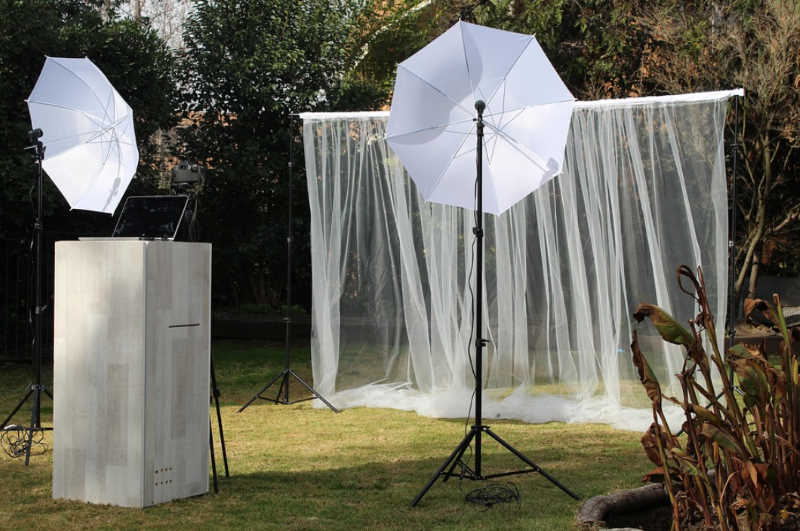 3. Feathers
If you're having a Mardi Gras theme event or you just want to play with feathers you can use them to fill your booth and let the users have a go at them.
Using a pack of feathers and a branch you can create stripes with the feathers and attach them to the branch.
They may look simple but when you color them, you find that they can be vibrant and sleek at the same time.
4. Computer Game Theme
Children will have a blast when they find themselves inside their favorite games.
By digitally designing your green backdrop you can design your booth to make it look like the user is in the environment of a certain game.
For kids, you can use a Minecraft theme design or if you're having a slightly older audience you can use popular action or adventure games.
The advantage of this design is that you can prepare multiple designs and have the users select which one they want to be a part of.
5. Celebrity Photoshoot Selfie Booth
Most of the booths nowadays can be operated by the audience in addition to a timer to improve their shots.
Also, selfies are still a thing and almost everyone would like to take the shot themselves.
You can use a tab as a camera and display and you can place a large ring light around it to make it look like a self-operated photoshoot.
Just add some glamourous filters and a chic background and your audience will have a blast doing poses of famous magazine models and celebrities.
6. Tinsel
If you're having a Christmas theme program or a retro-glam party, you can use tinsel as a background and illuminate the booth.
You use multiple colors in the event, but only use one at a time.
Having multiple colors might be too overwhelming and would grab the attention of your users.
This a simple and affordable idea, but still pretty effective just add the appropriate props to make things more fun.
7. World Map
You can use a world map as a background if you're having school events and such.
If the event is centered on a certain region you create a design digitally that would reflect the famous attractions, artifacts, or tools of that area.
Also, you can use props that would be culturally appropriate for a certain region.
You can also do an "Around The World" kind of theme using a select number of countries and regions.
By digitally designing a green backdrop you can take your users to famous world heritage sites and with the right props, you can make interactive.
8. Wes Anderson Theme
Wes Anderson is a famous filmmaker known for his unique narrative stories and his adept use of simple props to create distinct visual effects.
You can use his works as a backdrop and props some of the designs he used in one of his famous movies.
The most common ones are The Royal Tennenbaums, The Fantastic Mr.
Fox, The Grand Budapest Hotel, and many more.
This theme should be used in an event where the guests are familiar with his works or if you're just an avid Wes Anderson fan and would like to share his artwork.
9. Sitcom
Sitcoms always have a famous set where all of the characters gather around most of the time.
And most, if not all, of the fans of that particular sitcom are familiar with the set and would like to take a picture like they're part of the show.
The famous 90s sitcom Friends has the couch on Central Perk and How I Met Your Mother has the MacLaren's bar.
You can emulate some of the elements of the set and use it as props for your booth and watch your audience do the pose of their favorite characters.
This is both entertaining with a hint of nostalgia.
As a service provider, you can play around and mix designs to make your booth unique.
You can also incorporate modern technology to add convenience and style to your service.
Your booth's edge is in your capability to be creative and flexible to meet the requirements of your clients and the affair.
The limits of this service are so minimal that you can go crazy with your design and make it a fun experience for the users.