Most professional lawyers are predominantly concerned about finding ways to attract potential clients.
With the internet bristling with endless marketing options, it is getting harder to focus on specific strategies to be recognized among your competitors. The last decade has transformed the way we market our businesses, and the way we advertise our services can lead to huge success or utter failure.
To make your law firm profitable, you will need to invest in new ways to promote it. Thanks to the internet, online networking is now a few clicks away. Fortunately for you, we've gathered a list of ways to make your law firm recognized in today's market.
Build a Strong Website with a Unique Brand
To start standing out among your competitors, you will need to first build a strong website that will attract your potential clients. Most law firms now will opt for making their websites a 24/7 sales rep that provides ongoing help to visitors. Since people seek the internet when they need help, you will need to use that for the benefit of your service by providing content your audience will find useful.
For a successful marketing strategy, you need to build a brand and figure out what makes you unique. This has to do with more than just having some colorful business cards; it will all be reflected in your website's design, content, functionality, and user experience. To attract clients, you need a fast, appealing, mobile-friendly, and accessible website. Otherwise, most clients won't bother to go through a list of all your services on your page.
Invest in Online Marketing
Investing in creating marketing campaigns for your business is now a key factor in being known in the market. You will need the help of an expert to start coming up with web designs, digital advertising, and SEO boosting experiences. The marketing consultants at https://www.consultwebs.com/ mentions that these marketing tools can help lawyers receive more responsive customer interaction online. These results can help you find more leads and attract more clients to check your work.
Having your own background in online marketing is crucial to making your business thrive. SEO, for instance, is basically search engine optimization, which makes your website show up higher in Google searches. Content marketing is also important since what your website communicates to the readers is what makes it credible and relevant.
Position Yourself as a Thought Leader
If you want your potential clients to value your services, then you need to position yourself as a thought leader. To generate more leads towards your firm, you will need to set yourself up as an expert in several matters and share your knowledge to allow people to trust your words.
Keep in mind that you will need to stay authentic to the goal of your brand and remain as credible as possible.
Use your own content marketing tools and ads by including the suitable wording that reflects the identity of your firm as a strong leader in the market.
Track Your Marketing Campaigns
Your marketing campaigns will amount to nothing if you do not track them and generate reports and analytics related to them. When you accurately measure your advertising tools with the help of an agency, you gain more knowledge about your audience and the leads you have generated. That will help you avoid certain mistakes in the future and give you access to what needs to be done from that point on.
Make sure you avoid neglecting any campaigns in your tracking and reports. Everything you have done to get yourself recognized will provide you with useful information about your clients.
Create Landing Pages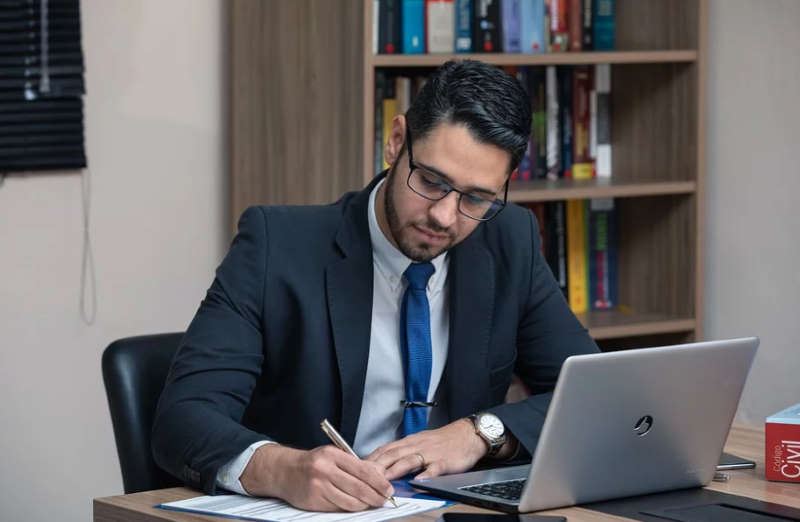 To boost the visibility of your website without having your main website cluttered with viewers, create landing pages that enable future contact with your visitors. This is how you generate leads and start building relationships with clients. You'll need pages that include professional call-to-action content and unique pages for each service you provide.
When asking customers for contact information, use call-to-action or provide relevant and credible legal advice, you position yourself as a reliable source for your potential clients and establish a strong online presence.
With the world changing around us, our businesses need to step up their game in various ways to reach clients. Online presence has a strong impact on your audience and can easily make you stand out. Online marketing is the key factor and most effective tool for getting recognized, but you should not ignore the importance of offline marketing as well. Make sure to build relationships with your clients to gain a better reputation for being the best at what you do.