There are a number of obvious perks to being able to work from home, though there are a number of unseen challenges that come with the package.
While it may be a dream to work from your bedroom, you'll likely find that your productivity levels plummet when you're a little too comfortable. Without pointed efforts toward channeling your concentration, you could spend endless hours off-task and distracted.
Whether you're a telecommuting SEO strategist or a full-time freelance blogger, setting yourself up for work-from-home success is a crucial piece to carving out your career. With that in mind, we've come up with 5 ways to heighten your productivity levels while working from home.
Step 1. Invest in apps that keep you focused
There are thousands of applications available specifically designed to keep you zoned into your work. These genius programs can be incredibly useful to structure your time and organize your thoughts. Here are some of our favorite apps and online software programs to keep you zeroed in:
Forest: Forest allows you to choose a type of tree you want to grow, set a time period in which you won't be able to touch your phone for, and press "start". If you leave your phone untouched for the specified amount of time, your planted sapling will grow into a big, beautiful tree. But, if you exit out of the app before the timer runs out, your tree will die and you'll have to start over.
Wunderlist: Functioning as an ultra-smart online to-do list, Wunderlist allows you to schedule projects and tasks on a visually comprehensive calendar. Leave your days of frantically wondering what's next or worrying about if you've forgotten something crucial in the past with Wunderlist by your side.
Freedom: Despite its name, Freedom is the perfect app for restricting your access to distracting websites like Facebook and Reddit.
Step 2. Use a virtual assistant
Virtual voice assistants have become the number one way to upgrade your home into a smart home. These tiny yet mighty devices are supremely designed to respond to voice commands—giving you the hands-free help you need for small tasks that could otherwise take you away from your work. Whether you're asking Alexa "what is telematics?" or need Siri to update you on your upcoming appointments, your virtual assistant is your one-stop shop solution, giving you the answers you need in seconds. All you have to do is ask!
Check out these best-selling virtual voice assistant devices that also double as excellent home audio speakers:
Step 3. Gear up with task management software
Time management is one of the most difficult parts of any career, and it's ultimately up to you to decide how you'll cram the highest capacity of the most effective work in your 8-hour day. To stay on top of your daily
Asana: Created Facebook co-founder Dustin Moskovitz and software engineer Justin Rosenstein, Asana has transformed into one of the market's most effective task management and team coordination software programs. This cloud-based software provides a streamlined and comprehensive platform for users to create monthly calendars, monitor ongoing projects, and more.
Trello: Trello serves as an excellent solution for working online with your colleagues, creating project boards, and integrating a slew of useful apps ranging from Google Drive to Slack to foster an all-in-one suite
Step 4. Pick a productive space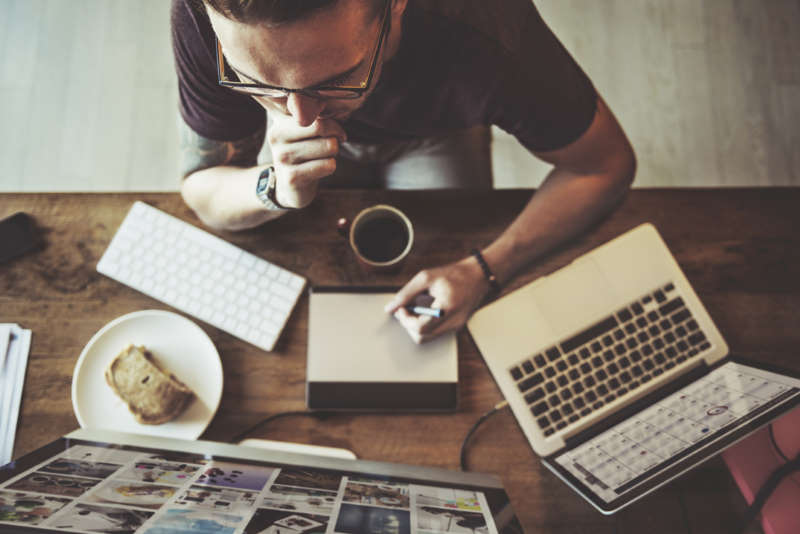 If you're looking to harness your highest potential levels of productivity, choosing a space where your brain can flourish is of the utmost importance. Within your home, select a room that offers plenty of natural light, a window for fresh air, and enough square-footage space to accommodate your burgeoning big ideas. Small and cramped closet-sized home offices can feel claustrophobic after hours and hours of work, so it works in your best interest to choose a space that breaths relaxation and concentration.
Step 5. Don't limit yourself to a single space
Just because you have the option to work from home doesn't necessarily mean you have to confine yourself to your house. Sometimes trying to work when your comfort levels are peaked can be impossible. Instead, take your work on the go to get your innovative juices flowing. Try a local coffee shop or a co-working space to get that office concentration without really being in your office.
Increasing your productivity begins today with these 5 steps. Did we miss anything? How do you enhance your productivity levels? Let us know in the comments below.