There are a number of interconnected elements behind the scenes of running a business.
Seamless as it may seem from the outside, the actual management process takes plenty of trial and error before you truly get it right.
As a small business owner, you understand these challenges first-hand. From endless days of calculating and organizing, to the piles of paperwork always needing to be signed and filed, there's plenty of painstaking work to be done at any given moment. However you can minimize certain tasks by utilizing automated expense reporting.
However, with ambitious goals comes ambitious workloads.
Thanks to the digital age, many of these regular business operations are becoming increasingly automated, taking the hard work out of, well, hard work.
Modern businesses are able to cut down on manual labor and turn to digitized software programs that tackle the same tasks with higher efficiency and accuracy.
Because there is such a vast library of software programs on the modern market, figuring out which ones your company needs can be pretty difficult.
Fortunately, we've compiled a list of our most tried and true business software essentials for every company, in any industry.
What is business management software?
Before we take a deep dive into our list, let's first clear up any confusion about what business management software really is.
Business management software is a digital application or set of programs specifically designed to improve and automate processes ranging from automated landlord credit checks to employee schedule planning.
In essence, business management software aims to provide a certain streamlined edge over traditional business-doings.
Not only do these programs help small business owners eliminate overhead errors, but they also provide support for increasing all-around efficiency.
Top 5 business software programs of 2019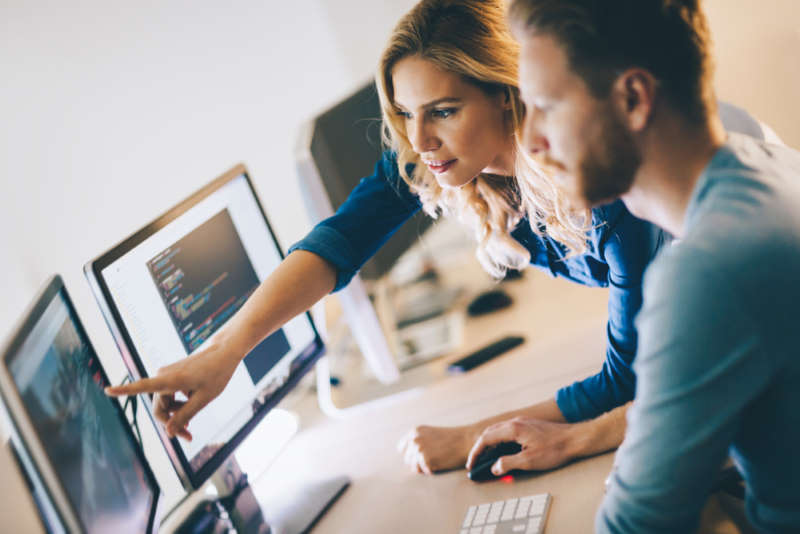 1. StudioCloud
This award-winning business management software is supremely designed to provide an all-in-one solution for creative service industries. Users can manage clients and vendors, create and distribute invoices, generate targeted marketing campaigns, and delegate employee commission, schedules, and more. StudioCloud is available on both desktop and mobile platforms, meaning your business management can exist in your pocket and always be one click away. StudioCloud is available in three separate tiers, each of which is packed with features engineered to accommodate all of your management demands.
2. Zoho One
Zoho One has quickly become one of the most well-known and well-loved business management software programs among business owners of all sizes. Offering a collection of smart services including sales gamification, customer relationship management, website optimization, and more, Zoho One is one of the most comprehensive and complete libraries of business applications available in one simple suite. Take charge of everything from your marketing efforts to your human resources implementations, all of which are available on both desktop and mobile interfaces.
3. NetSuite
Netsuite's reputation is one that speaks for itself. Used by over 40,000 small and mid-sized businesses worldwide, Netsuite has easily become of the most useful and versatile business management tools available on the modern market. Scalable to your specific business needs and user-friendly enough for novice business owners to dive into without any apprehension or confusion, Netsuite is the perfect application for project accounting, expense management, email marketing, and so much more.
4. Evernote Business
Evernote Business serves as the ultimate platform for taking your business to the next level. Business owners in search of a tool that promotes more efficient project management, ideation, and collaborative coordination need not look any further for a program that fits the bill. Plans are available in three different tiers; Basic, Premium, and Business. Each higher tier comes with more advanced features. Fortunately for those on a budget, the free version is also stocked up with plenty of valuable tools.
5. HubSpot CRM
Customer relationship management can be incredibly challenging to manage if you're working with a limited budget and restricted resources. Instead of settling for less, turn to HubSpot CRM. This genius tool is equipped with powerful marketing and sales tools that can help you reshape the face of our current CRM practices. , HubSpot CRM is a great all-in-one solution for small businesses looking for adequate customer relationship management software without any of the confusing complexity that comes with the territory.
With a well-selected collection of business management tools in your arsenal, you'll be better prepared to tackle your daily dealings. These 5 essential business software tools are a great place to start for success that's just a click away.