Any homeowner or flip-and-fixer knows exactly how overwhelming and complex a complete home remodel can be.
Whether you're aiming to make your home more handicap accessible or simply want to make your cramped living room feel more livable, it's always a good idea to have a clear idea of what you want for your home space.
It's easy to get carried away with choosing new paint colors, fancy light fixtures, and unnecessary additions that never made it into your budget. Keep your remodel timeline on track with these helpful tips.
Plan, plan, plan
Before you hand over any cash to a contractor or purchase any paints from Home Depot, be sure to have a crystal clear conception of what you want to get out of your remodel. Home renovations are big-ticket changes that alter how you function in your own house. This is also a good time to look into whether refinancing your mortgage for a higher amount might be a doable way to get the money you need.
When there are tens of thousands of dollars on the line, you want as little room for error as possible, and when you have an outlined idea of what you're expecting out of your remodel, your hired help won't have to make any on-the-fly decisions that could warp your vision.
To start your remodel plan, start with a list of absolutes and must-haves.
For example, your desire for a more open bathroom should detail your desire for an all-glass shower with gray tiled floors; it's in your best interest to specify to avoid ending up with a white plastic shower floor.
Or maybe you want every wall in your office to be lined with built-in shelving rather than installed shelving. These may be small specs that are wholly obvious to you, but in your absence, you want your contractors to know exactly what your vision is.
Budget accordingly
Now that you have a solid idea of what you want your new home to look like, it's time to figure out a budget for the must-haves and absolutes on your list. It's important to account for these first since they are the most crucial to you.
Any extra room in your budget for your remodel can but put toward miscellaneous additions.
The first thing to consider is the cost of your home. How much damage is your mortgage doing to your wallet as of today? Keep your location in mind— New Hampshire mortgages tend to be a lot more affordable than Vermont mortgages, and a home remodel may or may not pay off in the long run.
Is the home a summer home you could turn into an AirBNB during the summer? Weigh the many outgoing costs and potential incoming costs that help calculate the value of your remodel and how it fits into your budget.
Once you have a budget set, stick to it. There's nothing worse than letting costs run wild and finishing your project in an unexpected vat of debt.
Be wise with your expenses and choosy with your projects to assure decisive spending.
Hire good help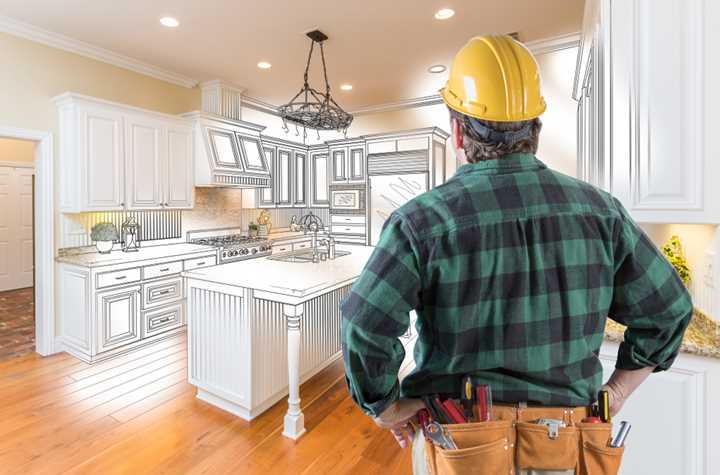 Planning to outsource the heavy lifting of your project to a group of far more qualified and skilled contractors? It's probably a good idea if you've never completed a remodel on your own before.
Building your team of qualified contractors takes plenty of research and patience, but ultimately serves you better in the end. To start your search, reach out to a few contractors whose past project have impressed you.
Make sure to include your project proposal so they can get back to you with quotes and potential calendar timelines.
Like any other aspect of the remodel process, you'll need to be picky with your selection—your contractor should have an impressive work history and give you positive and professional vibes. You should feel comfortable and confident in your contractor's ability to make your home office remodel idea come to life without missing a beat.
Final Note
Simple as these three steps may seem, they take plenty of research and consideration before true completion. A good home remodel takes time (no one wants a rushed job), so take your time to figure out specifics and logistics before jumping the gun.
Always prepare for the unexpected. Even with a precise outline, sometimes things fall out of line.
A home remodel will keep you on your toes, so it's best to learn how to adapt with the many changes your home will soon see!