Let us start with two of the very successful video on-demand businesses- YouTube and Netflix.
Even with a bare look at their business model, you can depict that both of them follow a completely different set of revenue generation strategies.
In 2017, the subscription business model of Netflix helped it generate $11.69 billion annual revenue, which was a huge leap as compared to $6.78 Billion in 2015.
While YouTube for the same duration made around 9 billion by streaming free VOD content with its Advertisement model business.
Now, if I ask, would the giants have been this successful if followed any other model than what they pursue already? Would YouTube be the world's largest VOD platform, if they charged on the videos? If removed the subscription fee, would Netflix business model still be efficient enough to cross the $11 billion mark?
The answer lies in the revenue model, business plan, content strategy, and the current market scenarios both the platforms faced when they initiated the journey.
For any VOD platform, type of content is the greatest influencer when deciding the ways to make money from it. Moreover, you can also not succeed by overlooking your audience's preferences.
So how to start an online video streaming business with the correct business model?
Indeed, by knowing all the choices you can exploit in the current scenarios!
For choosing the best suitable revenue model, you can expect it to cross the barriers even when your competitors are already performing exceptionally in the market.
When choosing a business model, you would want to conduct a detailed study of the business model followed by your rivals, and then decide the best-suited option for your own conduct.
Therefore, here are four revenue generation models that major VOD providers in the market follow these days, and they are thriving tremendously.
1. Subscription VOD model (SVOD)
SVOD is one of the most common revenue generation models used by VOD services these days.
Netflix revenue model is one of the prominent examples of the same.
Amazon prime is yet another success story similar to the Netflix business strategy.
How does it work?
In a pure subscription based business plan, users cannot access the content without subscribing the service. Looking at the other side, users get unlimited access to ad-free Videos by subscribing to the services for a monthly, quarterly or yearly duration.
Is further sophistication possible?
Considering Netflix business plan, you can further diversify the subscription model to earn more than just usual with a VOD platform.
Netflix offers the full access to all its videos with a fixed monthly cost. However, to enhance its earnings further, the giant has classified the subscription plans into three levels: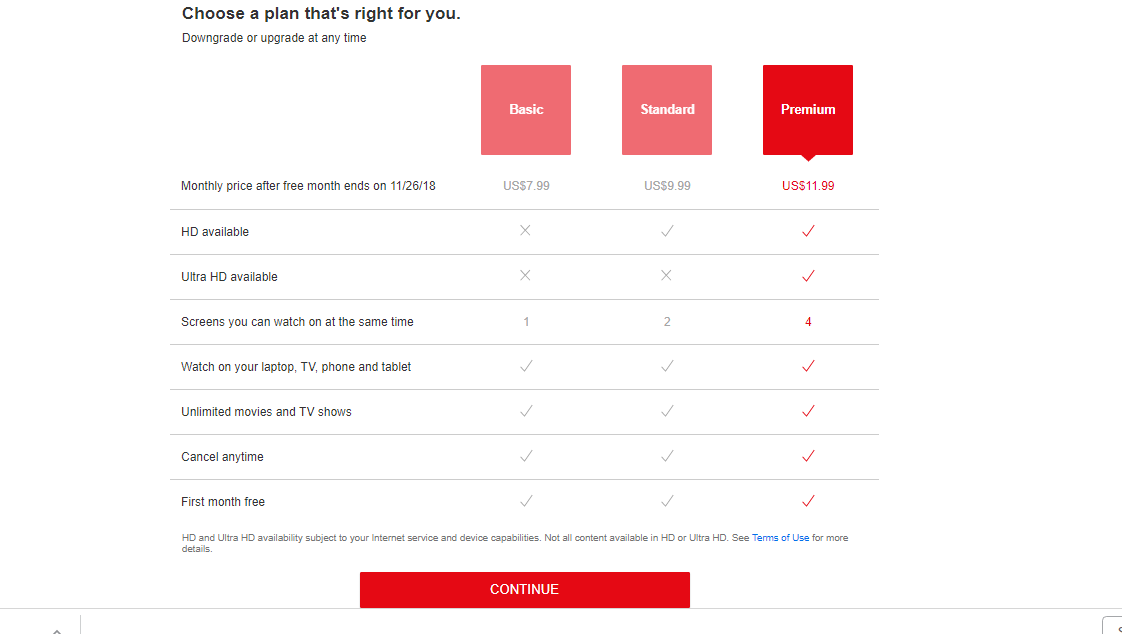 It offers on-demand video streaming subscriptions based on two unique aspects–
Streaming Quality- Standard, HD, and 4K
Simultaneous login counts- 2, 3 and 4 users
Based on these two aspects, users can prefer to subscribe to any of the three plans namely –
Basic – for standard video quality and Single login at a time.
Standard – for HD video quality and a maximum of two different logins at a time.
Premium – for 4K video streaming and a maximum of four different logins at a time.
A little digging also reveals that Netflix business plan aims at earning huge amounts without saddling prices on the subscribers. Just take the premium plan, for example, it might seem as the costliest plan from the three options, however, it is actually the cheapest one.
As it allows four different logins at a time, four people can actually share the subscription cost and get the costliest plan at the cheapest rate.
Bottom line: Just selecting a business model is not enough. You need to consider the preferences of your audience base and how you can make maximum earning without looking like doing so. No doubt, Netflix is the leader in the subscription model of VOD services.
2. Transactional VOD model (TVOD)
It might seem like I am obsessed with Netflix, but the VOD giant is still relevant at this point. Remember how Netflix, before coming online, used to be a DVD rental service.
You can still recall the days of visiting a Netflix outlet and getting the DVDs to watch on rentals. TVOD model works exactly like that.
Users do not subscribe to the whole service. Instead, they pay for the access to only individual content they want to watch. VOD platforms with this model, let users pay only for the particular video they want to watch.
Some platforms provide access for a limited period (Download to Rent (DTR)); while others might allow a permanent access to the same (Download to Own (DTO)). Depending on the platform's policies, the buyer might get the rights to either watch, download, share, or do all three with the purchased content.
A simple name for this scheme is the pay-per-view model. It works best with the contents like streaming special events and live programs, where users would not mind paying for watching the same.
You might have seen various free VOD platforms charging extra for an access to live streaming of live Baseball match or a soccer match. That is exactly, the TVOD model.
 WWE streaming App is the best example of a success story with the TVOD model. 
Bottom Line: Most of the businesses, who run TVOD services, do not only rely on this single revenue model. Besides, they support one or all of the listed models, as TVOD content are generally seasonal and entice only a few hardcore fans.
3. Advertisement –Supported (AVOD)
It is probably the least applied yet most popular form of monetizing a VOD service. Looking at this model, you can comprehend how business can thrive even after offering free VOD services to the users.
YouTube is the most prominent and global success story in this category.
YouTube utilizes advertising as a tool for monetizing its platform for both itself and its contributors. It embeds Ads in the videos and tracks the analytics using Google AdSense. Just like traditional TV broadcasting where programs sponsored by different brands show advertisement during the allotted slots.
A typical AVOD platform supports three types of Advertisement slots:
Pre-Roll – Displays ads before the beginning of a video.
Mid-Roll – Plays Ads in the middle of a video.
Post-Roll – Shows Ads after the end of a video.
Depending on the duration of the Ads, you can support three types of Ads on your VOD platform:
Skippable Ads- Users can skip the Ads before watching them fully.
Non-Skippable Ads- Users cannot skip an Ad without watching until the end.
Partially-skippable- Users cannot skip an Ad before watching it for a certain time. Mostly not before 10-15 seconds.
4. Hybrid VOD model (SVOD+TVOD+AVOD)
A hybrid VOD service would carry a perfect blend of more than one or all of the three models explained above in the article. Just take YouTube Premium for example; also called as 'YouTube Red'. With its Ad based model, it offers free content to the users. While on the other hand, it also gives an option to subscribe to the premium membership plan for –
Ad-free and offline videos
YouTube Music Premium for Ad-free high-quality tracks.
YouTube Originals for latest original series on the platform.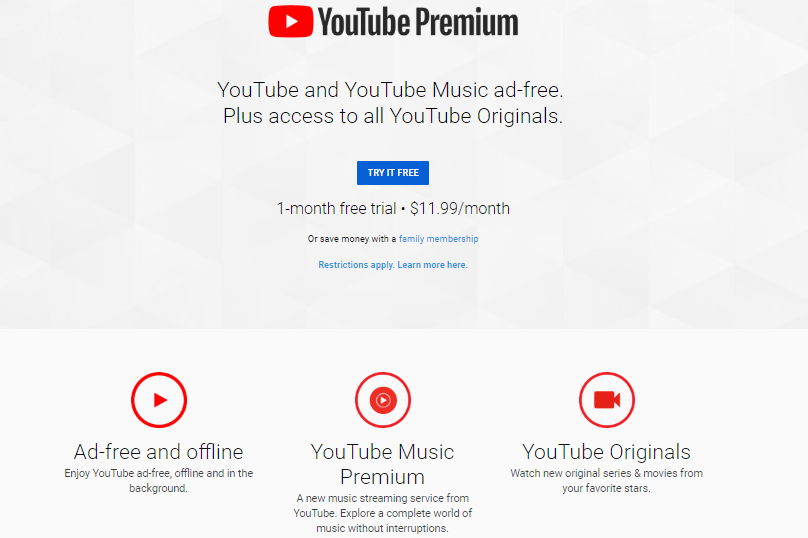 Image source: YouTube
For your own VOD business, you can adopt a similar method of combining two or three models. There are various VOD platforms and VOD solutions in the market, which provide turnkey scripts to launch VOD businesses with all the business models.
Probably, it is a great time to invest in the same. Just look at these stats, you would understand-
In the US alone, VOD revenue amount has amounted to US$15,589m until 2018.
This would show an annual growth rate of 2.3%, to reach a market volume of US$17,086m by 2022.
Bonus
If you are still confused about the options, just do some math to find out the popular VOD services in your area. Continue by examining their business models and compare them with how Netflix joined the race when YouTube was still a popular choice in the same category.
Furthermore, when Netflix and YouTube were still there, how could Amazon take a risk of launching the Prime videos?
The answer lies in their business model. They all had something additional and unique to offer as compared to the older payers. For example, Amazon prime did not come only as a VOD service but also offered additional free delivery on its eCommerce orders and access to Prime Music as well.
Netflix offered access to popular TV shows and its original hits, which was different from YouTube.