Two Apple Veterans Build a Company That's Purchased By Google
Turning a private jet into an apartment building.  Gourmet, alcoholic yogurt.  Tissues that say, "blow that nose, player," when you pull them out.  These business ideas don't even sound real, and they're not.  No, they're from Tom Haverford of the TV comedy Parks and Recreation.  Fun as they may all be, it would be hard to turn any of them into a viable startup.
A thermostat, however, just could work.  And so could a smoke detector.  Indeed, Silicon Valley superstars Tony Fadell and Matt Rogers have made billions with these products, manufactured by their company Nest Labs.  Silicon Valley might call for sexy and audacious items, like, for example, a department store with a guest list, another of Haverford's brainchildren, but Fadell and Rogers seemed to care more about actual success.
Before starting Nest Labs, both partners had achieved Silicon Valley success.  Not just a little, either.  While Steve Jobs is the man behind the iPod, he's not the only man behind it.  Tony Fadell was the head of Apple's music-player dev team and was, as such, a major driver in bringing about the world-renowned device.  One of his interns was none other than Matt Rogers.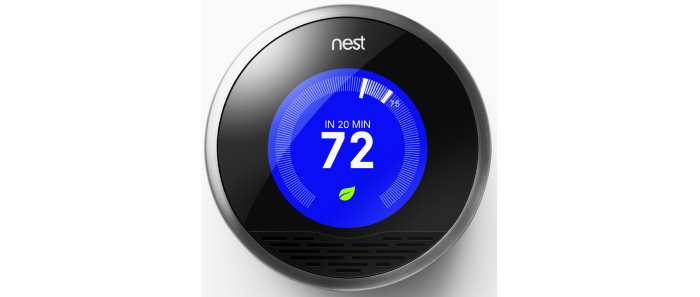 Rogers ran a home automation startup idea by Fadell, who said no one wanted anything like that.  Rogers was suspicious, and Fadell came clean about a home he was building for himself in Lake Tahoe, jam-packed with home automation.  Since Fadell was on board with the whole concept more than he'd originally let on, Rogers began bouncing specifics off him, and Nest Labs came forth.
The Nest thermostat is an efficient-looking, sleek hockey puck mounted on your wall.  It turns itself down when the user is gone, and can be controlled remotely via smart phone.  It's all about energy savings and about comfort.
As for the smoke detector, it was discontinued a few months ago, but still a big part of the Nest Labs story.  The idea behind the wi-fi smoke detectors was allowing users to turn them off without having to jab a broom handle at them, etc.  They're motion-sensitive, meaning that a swipe of the arm near them can turn them off.
Between the two of these products, the dynamic duo made themselves billions.  $3.2 billion to be exact: the price for which Fadell and Rogers sold Nest to Google. Google had been unsuccessful in bringing about energy-saving tools like those by Nest, so it thought it would bring the juggernaut on board.
It was 2010 when Fadell and Rogers opened the doors on Nest Labs.  Naturally, leaving a giant like Apple to become a business partner was tough for both of them.  Rogers says that his friends told him he was crazy.  To people in silicon valley, a thermostat might sound wackier than alcoholic yogurt.  It's not the kind of thing that young hotshots aspire to.
But the partners did their fundraising, actually getting funds from the venture capital division of Google. It got up and running and sprouted 200 employees before long.  In just a couple of years it was shipping 40-50K thermostats per month.
The story of Fadell and Rogers shows that technological know-how needn't be applied to the next Internet trend, a sexy smart phone app, the next Angry Birds, etc.  It can be simple, something that speaks to constistently-demonstrated human needs.  That's the recipe for success, and if you're lucky, Google may come calling.