AdSense is arguably the most popular online advertising program right now. With the world's leading Internet company behind it, it enjoys the advantages of excellent technology, reliability, and enviable reputation.
It is being used by almost every website and blog to monetize the content they publish or to simply earn additional income for their sites' traffic. However, AdSense certainly isn't the only advertising program website and blog owners can use. As a matter of fact, is slowly declining in use as typical banner ads become less effective and more publishers experience challenges as Google disables their accounts without warning leaving relationships damaged, leaving site owners hunting for alternatives.
Here are three solid options to begin with:
1. Infolinks
Infolinks is a program that enables monetization through contextual ad units based on a smarter approach to advertising. Basically, Infolinks is a pay per click (PPC) advertising network, which means that those who use it earn revenues for every click based on specific keywords. Earning through Infolinks may not be as fast as how it works with a program that also provides remuneration for impressions (cost per impression or CPM programs) but it still serves as a highly viable alternative to AdSense. It's just important to write content that encourages clicking on the links.
Infolinks works by analyzing texts on blogs or websites and inserting links that lead to advertisers' websites or specific product pages. The links automatically chosen by Infolinks pop out ads as the mouse pointer hovers through them.
Infolinks is one of the most flexible when it comes to payments, making it a very good option for those who can't just rely on delayed and difficult to cash checks and who may not have the PayPal service available in their area. It sends payments through PayPal, Western Union checks, Payoneer, ACH, and wire transfer. There's however a $50 minimum for payments, which is very reasonable.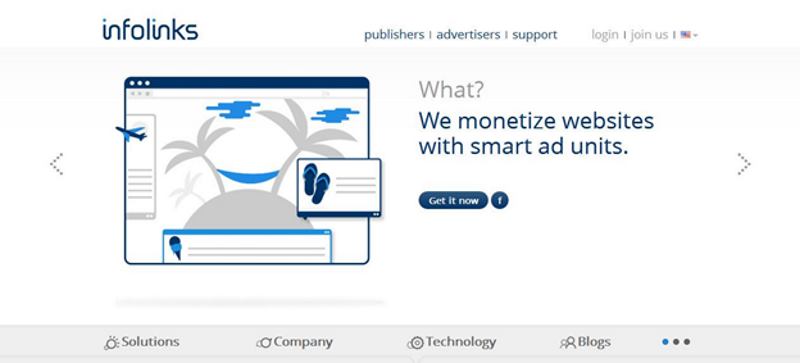 2. Amazon Associates
Amazon is the world's biggest online store. If you have a website or blog with content that can be associated with consumer products or items available at Amazon, you can become one of Amazon's associates. The Amazon Associates program works by putting dynamic image ads on sites or blogs. Unfortunately, it is neither a pay per click nor cost per impression program so deriving passive income with it may not be as easy if you rely on site traffic alone. Amazon pays commissions for the items sold through your ads. No sales equalzero revenue.If you successfully generate sales for relatively pricy items, though, you can expect big commissions that can easily match the earnings you accumulate through other advertising programs.
Amazon Associates has no incompatibility issues with AdSense so you don't necessarily have to ditch AdSense just to have it. However, just be aware that getting paid with Amazon Associates isn't going to be very convenient. The company sends checks for the payments and these checks take quite some time to arrive, especially if you are not based in the United States.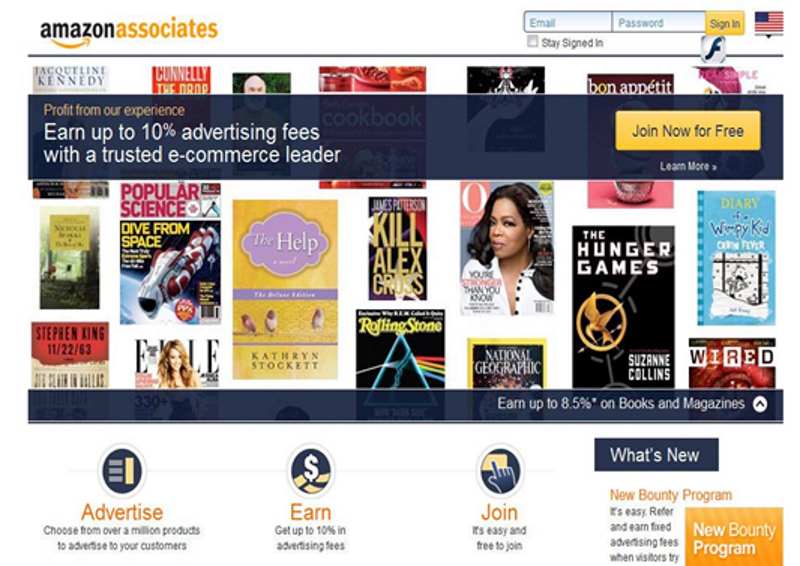 3. Affiliate Marketing
Affiliate marketing, as offered by various companies, is easily one of the best alternatives to Google AdSense. It may not sound similar to AdSense because of the inference that it involves the selling of products offered by other companies but it actually is mostly about advertising. In affiliate marketing, you simply have to sell products or services from other companies by running ads about them on your blog or website. You get commissions for the sales made.
There are several affiliate marketing programs on the Internet, with the top ones being ClickBank and Affiliate (formerly Commission Junction). Earnings can range from $10 to up to $500 for every item sold. Of course, it all depends on the products being sold. In many cases, higher commissions are achieved with the sale of software products.
Affiliate marketing can be done through text links or through banner ads. It's not necessary to do the selling or marketing indirectly. You can be as direct as you want by creating a post about the products and providing the necessary links to let interested buyers complete the purchase. In general, affiliate links or ads can be placed anywhere on a blog or site. However, it's important to make them conspicuous to invite clicks. Unlike CPM advertising programs that can yield earnings as long as the pages are loaded, ignored affiliate marketing ads or links don't lead to any revenue. Strategic ad placement is vital. In some cases, it is advisable to use text to encourage clicks or purchases.
The three advertising programs mentioned here, although labeled as "alternatives" to AdSense, don't really require you to leave Google's advertising program. They can be used to supplement your current campaigns or fill gaps when challenges occur.