Now that the holiday season has come and gone, it's time to start focusing on the new year. For frugal entrepreneurs and small business owners, 2013 has both its opportunities and its difficulties, it's clarity and its stubbornly persistent uncertainty- none of which can really be ignored. Even though you may want to focus on the positive for a change, this mixed bag of trends really needs to be taken as a whole. You'll have a much better chance of being successful in your business this year if you don't give in to the urge to just look away and instead embrace the challenges- even if it's with a grimace.
That said, below is a rundown of the biggest issues affecting money-conscious small business owners heading in to 2013: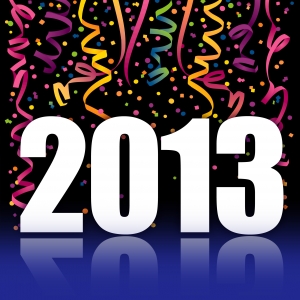 1. Certain uncertainty. Now that Congress failed to get its act together in 2012, small business owners have practically no information about how much their taxes will increase or if the economy go over the infamous fiscal cliff later in the year. The overall economic forecast (both at home and abroad) is also up in the air. Unless there are some major turnabouts, we can probably expect this uncertainty to remain with us till at least mid way through 2013. It's a fact that we just have to work around as much as we can.
2. Increasing competition means more focus. The end of 2012 saw a big push by some of big time retailers, including Amazon and Wal-Mart, to offer an unprecedented range of really convenient services such as enhanced personalization, same day delivery, and product customizations. Moreover, they are doing all of this within a competitively low price range. Because of this, small businesses will literally be forced to adapt one or more of the following strategies in 2013: offering a highly specialized or customized product or service, focusing on an ultra-specific niche, building an engaged community of customers around the business, and banding together with other local businesses to save expenses and cross-promote. If there ever was a time to start trimming the fat from your business, now's the time.
3. Cautious hiring may mean more work for virtual assistants and contractual workers. The small business community as a whole is hedging its hiring plans. According to the December 2012 Small Business Economic Trends survey from the National Federation of Independent Business (NFIB), "…11 percent of surveyed owners (up 1 point) [are] reporting they added an average of 2.9 workers per firm over the past few months, and 13 percent reducing employment (up 1 points) an average of 1.9 workers (seasonally adjusted). The remaining 76 percent of owners made no net change in employment." One external factor that may have owners hedging: The Affordable Care Act, which requires companies with more than 50 employees to provide health benefits or begin paying penalties in 2014.
Whatever the reasons, when fewer permanent employees are hired, then the demand for VA's and contractual workers typically goes up.
4. It's getting harder to attract and keep talented employees. If your company is in the tech industry or you are in need of tech support positions, then you've probably noticed how hard it has become to attract (and keep) talented and experienced workers. This will likely only get tougher in 2013. Many of the best employees are already employed, or are getting snagged by big companies that can offer super attractive packages. These employees may be reticent to jump to something new. Finding the right combination of hard and soft skills will continue to be a major challenge for small business employers next year. Because of this, you need to invest as much time and energy as you can to establish strategies for employee retention, development, and advancement. For some ideas, check out the following posts:
5. More power to the consumer means more attention to your reputation. With online product reviews, social media and viral video, consumers are more empowered than ever to share their opinions, both good and bad, about the products and services they use. This means that you have to be making at least a basic effort to monitor your online reputation. Not only will this help you reach out to your customers, but it will also keep you in touch with any customer service issues.
6. Mobile business monopoly. Small business owners need to respond to the growing proliferation of mobile devices. This actually includes several trends: mobile marketing, mobile payments, and responsive website design for mobile devices. Luckily, there are several cost-effective tools and services out there to help even the the most budget-conscious of small business owners in these areas.
We will also see smart business owners learning how to incorporate mobile devices and technology in their customer interactions, such as by linking mobile payments, mobile marketing, and location-based services, with a customer loyalty program.
7. Social media as a means, not an end. Investing too much time and money in social media channels that aren't bringing any return to your business just because "everyone's doing it," building follower numbers and not relationships, and counting on 'Likes' to drive your business, is simply a waste of your precious resources. There are enough tools, metrics, and forums to consult with these days to help measure the ROI of a social media campaign or presence. If something isn't increasing either your sales or consumer engagement, then either try to fix what you are doing wrong or leave it altogether.
8. Visual simplicity becomes the desired communication method. When it comes to web-based design two words define the current trend: simple and visual. That sites, such as Pinterest, have taken off is further proof that people are looking for visual content with instant appeal- from either a ascetic of informational standpoint. Moreover, sophisticated data visualization, specifically the art of turning complex data sets into a visual so that immediate patterns and/or fundamental principles become instantly apparent, is also gaining in popularity.
9. Alternative finance will continue to grow. As the economic outlook remains less than cheery, small business owners will continue to turn to alternative forms of financing, such as microloans, accounts receivables factoring, peer-to-peer lending, and various crowd funding models, to help smooth out cash flow and sustain growth and expansion.
So, there you have it. How is your business handling these issues?