Setting up a bank account for your business is a fundamental part of operations. Though your banking services tend to run in the background, if they are not a suitable fit for your company they can stick out like a sore thumb- costing you unnecessary money and causing you unnecessary grief.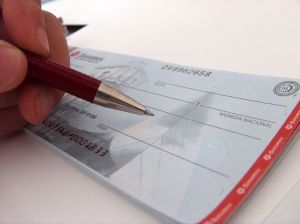 What I find amazing is how high the "pain tolerance" seems to be among some small business owners. If you own a small business, then realize that there are many moves you can make to ensure that your business' banking services not only run smoothly, but do so in a way that saves you the most time and money.
That said, here are several time and money saving tips to consider when setting up a business bank account:
Shop around. Many small business owners make the mistake of using the same bank for their business accounts that they use for their personal banking accounts. Doing so may seem good in theory, especially if you are receiving decent to good customer service. But, big banks in particular, tend to separate their services into completely different departments, each with their own goals and criteria for doing business. The result is that you may end up with a business account that offers neither the best features, nor the best rates, and surprisingly poor customer service, even while you are enjoying great service as a consumer.
It almost always pays to shop around a bit in order to get the best bank to suit your business. I'll discuss some of the features to look for below. If, however, you have already opened an account and you later find that it's not a good fit, don't sweat it. You can switch bank accounts today pretty easily. The most important thing is working with a bank that works for you… and not against you.
Watch the fees. When it comes to business bank accounts, one of the main financial features to consider is the fee schedule. All those monthly and transaction-based fees can really add up- even if they don't look so impressive at first glance- costing you some serious cash. Here are the main fees you should be on the lookout for, and consider them in light of how your business operates:
Monthly fees- Many banks charge a standard monthly fee on some accounts- typically checking accounts. Often these fees can be waived if you maintain a minimum balance and/or stay within other specified limits. You just have to make sure that you create some kind of a cash cushion and initiate any other protections (like automatic transfers from another account) to ensure that you stay within the no-fee limits should you experience a sudden cash shortfall.
Transaction fees- Some banks allow account holders a number of free transactions per month. Once that limit is reached, then for each additional transaction, a fee is incurred. A transaction includes all of the standard movement of funds sent and received through an account, such as check payments and receipts as well as electronic transfers.
ATM fees- These days, banks typically charge around $2.50 to use the ATMs of other banks. If your business relies heavily on cash, then it is especially important to be near bank branches where you can deposit your money as well as have a network of ATMs where you can access your funds for free.
Cash deposit fees- You should also be aware that many banks only allow a specific amount of coins and notes that can be deposited for free each month via a branch counter or an ATM. Typically a fee of $0.10 – $0.50 will be incurred for every $100 deposited once the limit has been reached.
Willingness to extend credit. Not all banks are equal when it comes to extending credit and loans to small businesses. If you know that you will need some kind of bank credit, such as a credit card or overdraft protection, you should look at the bank's history and overall attitude towards its small business clients. This is especially true if your business is relatively new, seasonal, or in a "high risk" sector, such as retail. Many financial experts suggest looking into community banks and credit unions as they tend to be more small business friendly.
Alternatively, if you are running a non-incorporated partnership, you could open up a joint business account with your business partner. These joint business accounts work much in the same way as joint bank accounts for couples do. As long as you exercise your full due diligence with your prospective partner, a joint account will allow you to both pool resources and credit profiles- both of which may make your account more attractive to the bank and thus help your business to secure financing.
Internet and mobile banking. Most consumers realize that online and mobile banking saves them a lot of money, but many businesses have yet to take full advantage of this trend that includes features such as, sophisticated epayments and mobile check deposits. For businesses, those savings can be even greater since travel time to and from the bank leads to lost time and productivity. Typically, the larger banks have the best online and mobile banking systems, so whether this point will be a deciding factor really depends on how your business is structured and how important the more advanced mobile features are to your business.
Other banking services. In some cases, you may want to open a business account by a bank that specializes in advanced financial services, such as asset finance, invoice finance, complex merchant services, or if they have a track record of helping businesses in your sector. Again, you need to do your research and be very clear about what your needs are.
Bottom line: you want to open your business bank account in a financial institution that will work with your business and even enhance operations. You don't want to find yourself fighting your bank or begrudging them the fees that they are collecting from you. You've got plenty of other things to be concerned about.